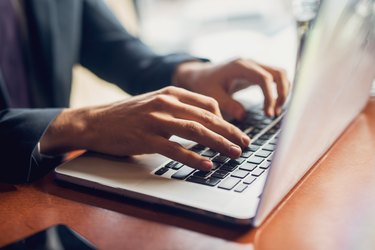 Capital One got their start back in 1994 and have since risen to the rank of the nation's fifth-largest consumer bank. The company's main objective is to help customers succeed by making banking more simple through the use of technology. If you bank at Capital One and need to send or receive a wire transfer, you'll find this to be true. As long as you have collected the information needed for the transaction, wiring money is quick and painless.
The wiring method and associated fees and limits is dependent upon which Capital One bank account you currently have. While all of the savings and checking accounts are eligible for wire transfers by phone, Essential Checking, High-Yield Checking and Essential Savings accounts don't allow for online transfers. You can visit a branch to make a transfer if you prefer not to make the transaction over the phone. These accounts also come with a $25 sending fee but no sending limits.
Should you have a 360 Checking, 360 Savings, 360 Money Market Performance Savings, Total Control Checking, Confidence Savings, Savings Now or Simply Checking account, you will be able to make a wire transfer online as well as over the phone. The sending fee is $30. While there are no sending limits to a linked account, a Capital One wire transfer to title company has a $500,000 sending limit.
Gather the Right Information
According to Capital One, you can send a wire transfer to a title company or a linked external account that has been on file for at least 30 days. To link an external account, you must:
Sign in to your account on a computer, as this feature isn't available through the mobile app.
Select your profile picture at the top right of the screen and choose "Settings."
Find "External Accounts" and select "Add External Account."
Enter information about the external account you're trying to link.
Before you can wire money, you need to obtain important information about the linked external account you'd like to send the money to:
full name of the account holder
wire routing number
mobile phone number to verify identity
intermediary bank wire routing number – if required

intermediary bank address – if required

Additional information is needed when sending money to a title company:
name of the title company
loan/escrow/order number
title company's physical address
title company bank's wire routing number
title company bank's address
mobile phone for identity verification
intermediary bank wire routing number – if required
intermediary bank address – if required
Capital One Wiring Instructions
Head to Capital One's homepage and log in with your username and password. Select the account you'd like to wire the money from (should you have more than one account). Click on "Account Services & Settings" and then "Wire Money." Enter the information of the recipient in the provided boxes as well as the amount you'd like to transfer. Check that the information is correct before you click the "Submit" button, as this action can't be reversed.
If wiring via phone, call 1-888-464-7868 and say, "Wire Transfers" into the receiver. Next, enter your debit card number or Social Security number using the phone's touch pad. The system will then connect you with the appropriate representative, who will assist you in completing your wire transfer. Should you need to visit your local branch to make the wire transfer, be sure you call ahead to find out the branch's hours of operation. A bank representative can then assist you in completing the transfer.
As long as you submit the wire transfer request before 2 p.m. EST on a Monday through Friday, the transfer will be completed same day. Outside of this time, the wire transfer will be finalized on the next business day.
International Money Transfer Services
Although Capital One only allows online wire transfers within the United States, you can still make an international money transfer by visiting your local branch and getting assistance from one of the bank's associates. In addition to the information listed above, you may also need the bank's international bank account number (IBAN number), so make sure you have that information on hand as well.