If you have a checking account with Chase Bank, you can find your account number online or on your checks or deposit slips. If you have a credit card account, you can find your account number online or on your credit card itself.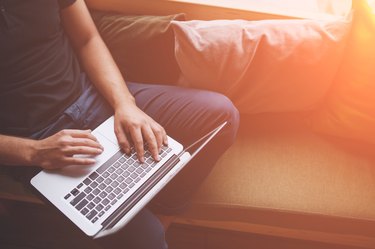 Finding Checking Account Numbers
If you have a checking account from Chase Bank or any other bank, and you have checks that came with your account, the account number will be printed on the bottom of the checks. There will also be a routing number provided, and you can use the two numbers to make deposits and withdrawals.
Your account number will generally also be printed on your bank statements. If you don't have a checkbook or paper statement handy, but you use online banking, you can look at your statements online to find the number.
Remember that if you have a debit card associated with your account, the number printed on the debit card is not the same as your checking account number. You can, however, still use your debit card number and PIN to access information about your account over the phone if you don't have your account number handy. You can also call Chase to inquire about your account number, though it is likely the bank will need other information to verify you're actually the account holder.
Keep your checking account and debit card numbers, as well as other information like your debit card expiration date, secure, because they could allow someone to access your account and even place fraudulent charges.
If you're in the process of applying for a Chase account, you can contact the bank for an application number until you get your checks, first statement or debit card.
Finding Credit Card Numbers
If you have a Chase credit card, you can find your account number directly on your card, along with other information you may need to make online or over-the-phone purchases like the card's expiration date and the security code. Of course, be sure to keep this information safe, because it can be used to make purchases in your name. You can access additional information about your credit card spending, billing and the terms of your plan, including interest rates, through Chase's website or by calling the number on the back of your credit card.
Lost or Stolen Cards
If you are unable to find your account number or information because your credit or debit card has been stolen, contact Chase immediately to have the card suspended and replaced.