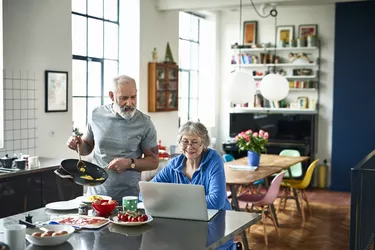 So it's time to apply for Social Security benefits. If you're like most of us, it still comes as a surprise when you reach this point. Whether you've decided to apply for partial benefits at 62 or wait until you reach full retirement age, getting money every month for doing nothing feels weird. But the weirdness will wear off and looking back over the long hours you put in and difficult bosses you had to deal with, it starts feeling good and well-deserved.
Apply Online
Your mom and dad probably had to go in person to a Social Security Administration office to apply. But just in time for baby boomers' retirement, the SSA has created an online application process. Now you can apply in about 15 minutes on your laptop. Go to the Social Security homepage and choose Retirement or Disability from the menu links.
Your full name as it appears on your Social Security card. If you no longer have your card and don't remember exactly how it reads, you'll have to apply for a replacement card first. You can do that online too.
Your birthdate.
A valid email address.
Your Social Security number.
A U.S. mailing address.
Your cellphone number.
The last step requires authentication. SSA will send a text to your cellphone with an eight-digit code that you must enter to complete the process of opening your account.
Check SSN Application Status
Once you've opened a Social Security account online, whether it's for retirement or disability benefits, you can track its status by signing into your account. Here's how:
After you've gone to the Social Security homepage click on "Sign in/Sign up."
Click on "My Social Security," which brings you to the "Sign in or Create an Account Page."
Fill in your login and password.
Verify your cellphone number.
Enter the eight-digit code that they text you.
The last step is agreeing to their terms of service. After you've checked "I agree" and click on "Next" your account will open to your Social Security Statement page.
Track Social Security
In the middle of your Social Security Statement page there's a section called "Your Benefit Applications." The fourth column, "Status," tells you the status of your application. The SSA is an organization of few words when it comes to describing the status of applications. The status will usually say "Received," "In process" or "Decision made."
However, next to the "Status" column is a column called "More Info." Click on "View Decision" for more detailed information and an explanation of your application's status. The status of Social Security disability applications can be tracked the same way. You will also be notified by mail as the process progresses and when a final determination is made.
If you have questions at any point you can call 800-772-1213 to speak to an SSA representative. But be prepared for a long wait; it usually takes between an hour to an hour and a half to reach a person.
Check Status of Social Security Card
To apply for a new or replacement card you must be a U.S. citizen, 18 years or older and have a U.S. mailing address. You must also have a driver's license or state issued ID card. There is no charge for a new or replacement card.
You can apply for a replacement card online after you've opened an account. But if you're applying for a brand new card for the first time it must be done in person or by mail. You can track your in-person or by-mail application by calling 800-772-1213.
To speed up the process, go to Application for a Social Security Card, download the form, print it and fill it out. Then mail it or bring it with you to your nearest SSA office along with the required documents that are listed on the form's instructions. If you're going in person, it's always a good idea to call first and make an appointment.
How Long Does it Take?
Regardless of how you applied, the process for approving retirement benefits takes about six weeks from the time your application is complete. However, the SSA advises users to apply three months before turning age 62, or reaching full retirement age.
Getting a new or replacement Social Security card can take up to two weeks. Disability is an entirely different story. It generally takes five to six months but can easily take a year or longer. There are many more requirements when applying for disability, including collecting medical records and going through physical and/or mental health evaluations by practitioners who work for the SSA.
The best way to keep any Social Security application moving is to have everything they require at the time you apply. Then promptly provide any additional information and documentation they request.