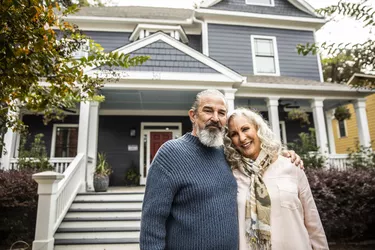 Retiring is more complicated than trading business casual for T-shirts and sandals. Especially if you're going to rely on Social Security benefits, you need answers to many questions about when your benefits will kick in. For example, how long does it take to start receiving Social Security benefits after applying? How do you even apply? And after you've applied, what month do you get your first Social Security check?
According to the American Association for Retired Persons (AARP), it can take up to three months for the Social Security Administration to process your application if you are at full retirement age and up to another month before receiving your first payment. With that in mind, you will want to keep some money in your reserves to prepare for the period between application and payment. While your first Social Security payment may come faster than that, it's better to play it safe than sorry when it comes to finances.
How long does it take to receive retirement benefits after applying? Experts recommend applying for Social Security retirement benefits approximately four months before you plan to need them. If you immediately need to depend on Social Security benefits as money to live on, you should be sure to follow up on your application online and by calling the administration.
How do you know when you'll receive your first Social Security check, and do Social Security benefits start the month of your birthday? The answer is that it will depend on when you apply. Many people want to start receiving Social Security benefits as soon as they reach the age of eligibility or full retirement age. The full retirement age has been rising steadily from 66 to 67 for people born between 1955 and 1960. The eligibility age will be 67 in 2027 and after that.
Again, try applying for Social Security four months before you want to start receiving payments. If you apply well in advance of your eligibility, your first payment should arrive in the month after your birthday. Your birthday also sets when you will receive your check every month. In addition, you can't apply more than four months in advance of your age of eligibility date; if you do that, the online system will block you, and your local SSA office will not take your application. If you waited to take benefits past your full retirement age, you could apply at any time.
For many individuals, the act of applying for Social Security benefits is an incredibly daunting task, but it doesn't have to be. The most straightforward way is to apply directly online on the form provided by the government experts on the Social Security website. All you must do is read the onscreen prompts and follow them to complete the process. If you cannot apply online, the website lists a phone number you can call to determine eligibility for an in-person appointment during the COVID-19 pandemic.
You'll have to have the documents needed to apply for Social Security retirement benefits when you are applying. There's a handful of documents that you must have, including your Social Security card, original birth certificate or other proof of age, tax documents, proof of citizenship and proof of military service.
How long does it take to apply for Social Security online? That depends on how computer-savvy you are and whether you've gathered all the necessary documents and information before beginning the application. Still, it shouldn't take more than a few hours.