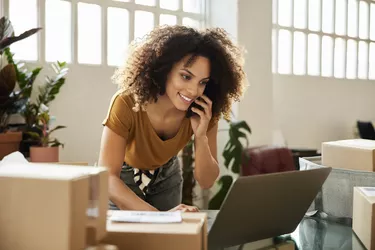 It's no longer necessary to write checks by hand. You can save yourself hours of time and improve your bookkeeping records with a good check-writing software program. These programs can handle your personal checks in addition to checks needed by a small business.
Using Check-Printing Software
These are the steps that most check-writing software programs generally follow:
Enter your checking bank account number and bank routing number in the software.
Set up your printer with the software.
Click on the "write checks" button.
Enter the information on the check that would include the date, payee name, amount and a memo note if you want to describe the purpose of the check.
If your software has this feature, allocate the check to its expense category.
Place blank check stock paper in your printer and click on the print button.
Best Check-Writing Software Programs
Print Checks Pro offers software for both mobile devices and desktop computers and has more versatility than other programs. You can sync the program with several devices and also print a second check copy for your records. Checks and deposit slips can be customized with your business logo and branding.
Pros
Can print checks from your PC or iOS and Android cell phones
Uses standard printer and ink, doesn't need magnetic ink
Customer service is available by phone or email
Cons
Reports that mobile app crashes often
Blank checks, preprinted checks and check paper cost extra
Checkeeper is designed to make it easy and uncomplicated for the small business owner. You can print personal or business checks using check stock or regular paper. Checkeeper offers free templates that give you the ability to print professional-looking checks with your logo and images and your signature.
Pros
14-day free trial to try out the subscription
Unlimited check printing
Can integrate with Quickbooks, Freshbooks and Xero
Don't have to use check stock paper
Don't need special inkjet printer
Cons
Monthly subscription cost can get expensive
Costs $1.25 to mail a check
CheckBuilderPro was designed specifically for Mac devices and is now available for Windows PC as well. The latest version meets Apple's newest requirement for 64-bit. You can customize checks with your company's logos, font and signatures. The program is set up as a download, not a CD.
Pros
No limit on the volume of checks you can print
Comes with 140 checks when you buy the program
Works with all brands of check paper
Remembers payee information in a database
Has accounting software that can reconcile your checking accounts with bank statements
Cons
Tech support is only available through email
Only works with U.S. banks
Online Check Writer is web-based and offers physical checks in addition to digital checks for sending checks electronically. You can save money by using blank check paper instead of paying for preprinted checks.
Pros
15-day free trial with no credit card required
Offers several types of plans
Works on Windows and Mac
Cons
Yearly renewal fees are expensive
Only available for U.S. and Canadian banks
Checksoft is great for business and personal use. The program comes with over 100 check templates and integrates with QuickBooks and Quicken. Checksoft also offers more than 1,000 custom backgrounds and logos that you can use for your business.
Pros
Substantial savings on cost of checks with 175 free checks included
Maintains payee database so you only have to enter the information once
Cons
Only works on Windows PCs. Doesn't work on Macs