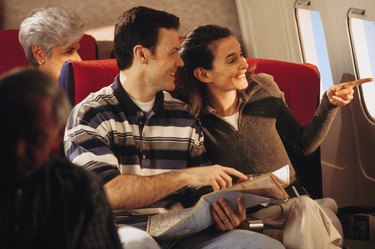 The Capital One "No Hassle" rewards program awards points or miles each time you make a purchase. You can use Capital One reward points and miles in a variety of ways. Rewards don't expire as long as your account is open, and there is no limit on the amount you can accumulate. You don't get points or miles for cash advances or other cash-equivalent transactions such as buying travelers' checks.
Redeeming Capital One Rewards
To use rewards points, log on to your Capital One account and go to the rewards page. Your accumulated points and cash value will be displayed. Follow the prompts to redeem points. You can receive cash back, purchase gift cards or donate money to charitable organizations. You can use all of your points or just part of them. The No Hassle program also lets you set up automatic cash back payments whenever a threshold amount is reached. You can also redeem your points by calling Capital One at 800-228-3001.
Using No Hassle Miles
The No Hassle program works the same way if you have a Capital One account that awards miles instead of points. However, you can also use reward miles to pay for airline tickets, lodging and car rental. One way to do this is to book your flight, accommodations or car rental using your Capital One rewards card. Then go to your online account and apply your miles to pay for the purchase. You can also book travel arrangements through Capital One and apply your miles that way.