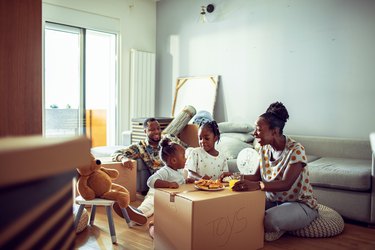 Whether you're ready to leave your parents' house for the first time or you simply need to relocate to another city, you'll need to know where to look for a new rental. Craigslist is an excellent place to start. According to NPR, Craigslist was founded back in 1995 by Jim Craig. Craig wanted to create a site that made searching the classified ads a breeze. The site has the same look as it did when it began all those years ago, and is indeed easy to navigate. It takes just a few clicks to begin locating rental ads.
When you head to Craigslist, the site will automatically route you to the area you're currently in. This is helpful if you plan on looking for Craigslist apartments nearby. If you're moving to a new location, however, you'll need to use the links on the far right-hand side of the screen to navigate to your search area. You'll see a list of nearby towns, as well as links for "U.S. Cities," "U.S. States," "Canada" and "Cl Worldwide."
If you live in Jacksonville, Florida, but you plan to move to Las Vegas, Nevada, you'd click "U.S. Cities" and then "Las Vegas." To search a lesser-known town, like Boulder City, Nevada, click "U.S. States" and then "Nevada." From there, you'll be able to navigate to the correct city.
You'll find the "Housing" category located at the top center of the website. From here, you can select whether you'd like to look through "Apts/Housing," "Rooms Shared," "Sublets/Temporary" or "Vacation Rentals." As soon as you select the type of housing you're looking for, you'll see a screen with all the listings in that category. The site is set up to automatically display the newest listings first, but you can change this using the drop-down menu on the upper right-hand side of the screen. You can choose to have the lowest or highest priced rentals shown first.
Narrow Your Search Results
Your general Craigslist rentals search may provide over 2,000 results, which would take quite a long time to sift through. Fortunately, you can narrow your search to save time. Look to the left-hand side of your screen. This is where you can set a minimum and maximum price, number of bedrooms and number of bathrooms. You can check boxes for cat-friendly, dog-friendly, air conditioning, non-smoking, wheelchair access and even furnished.
You can check a box to view rentals that were posted that day only or a box that lets you include nearby areas. There's the option to search listings that contain photos, as well as listings that have no application or broker fee. The more specific you get in your search, the fewer listings you'll have to comb through.
View and Compare the Listings
Once you've narrowed your search, you can begin reviewing and comparing the listings. Look for listings with plenty of details, so you know exactly what you're getting for the price. At the top of the screen, you'll be able to add a listing to your favorites list or hide it from your search if it doesn't interest you. Once you have a few rentals in your favorites list, you can go back and determine which ones you'd like to know more about.
There's a reply button at the top of the listing, which you will want to use if you'd like to ask additional questions about the rental or if you'd like to arrange a time to see it in person. It's important that you fully read the listing first, as some owners prefer to be contacted via their cell phones. They will state this, as well as provide their contact information within the listing. Once you meet with the owner, you can request to put in a rental application.
Warning Signs to Watch For
Unfortunately, there are scammers out there who place a home for rent on Craigslist to defraud people of their hard-earned money. Craigslist provides several warning signs to watch for on their site. They suggest never paying anyone for a rental that you haven't met in person, as well as never wiring any deposits. Craigslist also lists a landlord who doesn't accept checks or money orders as suspicious. Although background and credit checks are often a normal part of getting approved for a rental, you should never consent to this until after you have met the landlord and seen the property.