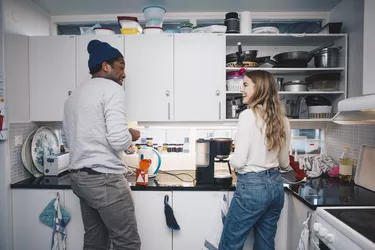 Finding a roommate can be a tough but necessary process if you need to split housing costs. Craigslist is a classified ad website that lets you tailor your ad in a way that lets you attract the right kind of roommate. You can also search the ads to find a roommate.
To set up your free Craigslist account, all you need is your email address. Once you set up an account, make your ad specific and interesting before posting it on the "Rooms Wanted" section of Craigslist. Start by explaining the situation, such as "room available in home with 2 other roommates." Go into details, including:
the monthly rent the roommate will have to pay

the deposit required by the roommate

how utilities are shared
how long the lease is for
Provide details such as the availability of a dishwasher or a fireplace to make the home or apartment more attractive to potential roommates. List what's available on the premises such as a pool, laundry, exercise equipment or close proximity to public transportation. Add a photo of the room or residence to make the ad more attention-grabbing. You should also list the deal breakers; these might include pets, smoking and anything else you cannot tolerate in a roommate.
When making your listing, don't post your phone number or personal email address in your ad, advises Moving.com. Instead, use Craiglist's anonymous email address. This is automatically set up for you when you create the ad and will keep your contact information from falling into the wrong hands.
In conjunction with placing an ad, search Craigslist's "Rooms Wanted" ads for people who are searching for a place to live. Consider looking for someone who has similar interests and a similar personality and lifestyle. You can read the ads thoroughly for hints. When you see someone who might make a good roommate, get ready to mention your own interests to spark her curiosity.
Once you get responses or find potential roommates you want to approach, it's time to narrow down the contenders to a few you can interview over the phone. During the interview, briefly explain what you have available, then ask the person what he wants in a roommate to find out if you're compatible with each other.
If you hit it off, it's time to invite him over to see the room so you can see if you get along in person, too. When inviting a potential roommate to your home, be cautious and safe. Invite a friend to hang out at your house while you interview the person.
To be sure you've picking the right person, ask for proof of employment so you know he can pay the rent. Also, conduct a background check to see if there are any areas of concern. Storage Front recommends offering a month-to-month lease until you are sure that new Craigslist roommate is going to work out. At that point, you can re-negotiate a lease with a longer term.