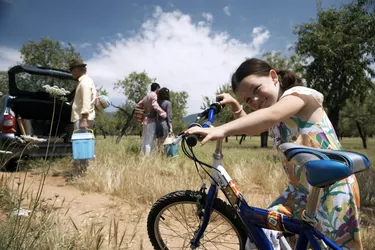 Vacations build memories, strengthen family bonds and relieve the stress of everyday life. While luxury vacations may be the stuff that dreams are made of, financial reality often dictates that vacations be planned with budgets that make pup tents look palatial. Having little to no money to spend on a vacation doesn't mean the fun has to be minimized. Fire up your creativity to make a low-budget vacation memorable and delightful for you and your family.
Step 1
Be a tourist in your own town. Make a list of the attractions near home that you don't visit in your day-to-day life. Put together a tour itinerary and visit local playhouses, museums, parks, sporting events and gardens. Take tours of historical buildings and visit farmers markets or unusual boutiques. Attend local events at your library or make a scavenger hunt. Plan your vacation around a local festival or fair and spend the day there. Create a passport for each of your family members that you can stamp as you visit each locale. Make it a multi-day vacation and let everyone camp out in the living room. Stay up late and read local stories out loud to each other.
Step 2
Be an exchange tourist. Arrange with a family in another state to trade homes for a week. Prepare an agenda for them of local attractions they can visit and leave a welcoming basket for them. Stay in their home for a week and visit the attractions near their home. Choose inexpensive but memorable attractions such as state parks, historical monuments, beaches or caves. Be sure to leave their home clean and in at least as good of shape as you found it.
Step 3
Go camping. Buy used camping supplies at yard sales and visit a state or national park. Spend your days hiking, bird watching, riding bikes or swimming. Gather the family around a campfire in the evening and tell ghost stories, find constellations in the sky or listen for night animals.
Step 4
Visit friends and family. Plan a car trip in which you spend a day or two with out-of-town family members you rarely see. Bring batches of cookies or homemade bread as hospitality gifts. Instead of dining out, suggest the family cook a meal together with everyone contributing a dish, even the young kids. Play family games, yard sports or cards and take lots of pictures.
Step 5
Take advantage of museum reciprocation programs. Buy memberships at your local museums and find out whether that membership will give you discounted access to museums in other cities. Visit those museums throughout the year.
Tip
Keep a positive attitude. Banish all moaning about money and concentrate on what it is you are able to do.