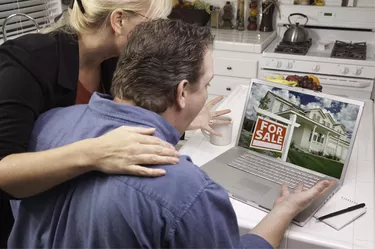 Millions of prospective tenants use Craigslist to find free classified adds on rental homes and apartments. Home-for-rent scams appear on this popular website and may be difficult to detect if you're unaware of the red flags. To avoid being ripped off, follow Craigslist's advice on the do's and don'ts of renting via the website. Always double check the facts before providing personal information or funds to a likely fake landlord. Following certain protocol and payment procedures can ensure you get a legitimate rental and safeguard your financial information.
Common Rental Scam Scenarios
You might come across a rental ad on Craigslist that sounds too good to be true. Scammers obtain legitimate listings online from local multiple listing services and other real estate websites, then create a fake post for Craigslist. Many schemes involve overseas homeowners in need of good and trustworthy tenants for a local apartment, condo or house. Fraudulent remote landlords aren't available to speak to you over the phone or meet in person, and they communicate solely via email and text message. Their goal is to obtain a security deposit and prepaid rent. Even if you don't give them money up front, they can still walk away with your social security number, bank account and credit card numbers, which they use for identity theft.
Red Flags to Look Out For
Common threads distinguish scams from legitimate rental opportunities on Craigslist. One or more of these details in a rental listing often indicate a scam:
Below market rents -- often at half the going rate of comparable rentals in the area
A non-working phone number or lack of voice mail, so you must email
Poorly composed emails when corresponding
Absentee property owner is abroad, often performing missionary work, military service or contract work
You must deal with the supposed landlord directly, without a real estate agent or property manager
You can't view the property in person
You must wire funds to the homeowner.
Proceed With Caution, Even When Ad Looks Legit
Scammers may use a real homeowner's name and an actual real estate agent's contact information in a Craigslist ad. Research their information so you can positively identify them at a viewing. Conduct a cursory background check on the agent by looking up their license information, website and office information. You can usually find an agent's photo this way. Homeowners may be more difficult to identify, but checking public or tax assessors records allows you to obtain the names of a home's legal owner. Search online for professional profiles and social networks for photos of the owner. When you meet, ask for their photo ID to verify. This way, you're not duped into meeting a stranger at the home and handing over a rental application and money if they do show you the home.
Fund Transfers and Escrow Services
Avoid rental ads that demand a cash payment or require you to send the homeowner money via wire through WesternUnion, MoneyGram or PayPal. Also, don't rely on a third-party escrow service, found online, to guarantee or hold money for your transaction. Craigslist doesn't offer escrow services or guarantee its ads, and any ad that claims to guarantee the deal is a scam, according to the website. Also, most online escrow services are fraudulent, says Craigslist. If you do use a third-party escrow for a rental, use a brick-and-mortar company or verify the licensing and certification of an online escrow service.