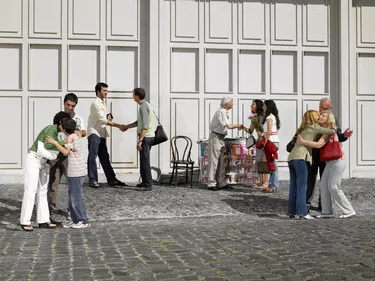 Legally speaking, Craigslist is a for-profit company. Culturally speaking, however, the Craigslist team wants to sustain a non-corporate, non-commercial nature as a part of promoting its overall public service mission. And a part of that public service is to protect the public -- including businesses who may rely on Craigslist for some of their sales -- from fraud and scams when exchanging money.
Dealing
Craigslist's first, major rule for safe money exchange is to only deal with local buyers or sellers. When you deal locally, it's that much easier to inspect whatever it is you're thinking of buying or renting, in the case of buyers. And it helps you get a sense of the kind of person you're dealing with, regardless of whether you're a buyer or seller. Craigslist asserts that by following this rule you'll avoid 99 percent of all Craigslist scam attempts.
Payment
The best form of payment in most cases, according to Craigslist, is cash, since you can verify the amount on the spot. Also, if you're equipped with a fake money detector pen you can immediately determine if larger bills are counterfeit. Craigslist warns against accepting money orders and cashier's checks, since scammers have often made fake versions of these -- leaving the seller without their merchandise and their money when the bank won't cash the checks or money orders. Craigslist also advises against using wire services like Western Union and MoneyGram. If you do accept personal or other checks, such as if you rent out property, wait for these to clear before finalizing any agreement.
Example
One known scam that has seen many swindled out of money involves someone pretending to be an out of town while trying to lease residential or commercial space. Being aware of this type of scam is especially important for businesses who use Craigslist to shop for office or warehouse space. Generally, the phony agent will post a convincing ad about an available space, but say that he's out of town at the moment. To secure the space, he asks that you send a deposit, whether by mail or some other means, only for you to find out that the space isn't available at all and he's not a legit agent.
Instinct
A less concrete but still important way of exchanging money safely when dealing on Craigslist is to trust your instinct. If after meeting with a buyer or seller you, for whatever reason, don't feel right about the transaction, don't go through with it. You might disappoint or upset the other party, but that's a part of business. Meeting with a buyer or seller is not a purchase agreement. Beyond that, always think about not only keeping your money safe but also yourself. Meet in public, populated places. If your business is located in a larger building, consider meeting the person in the building lobby instead of at your office space.