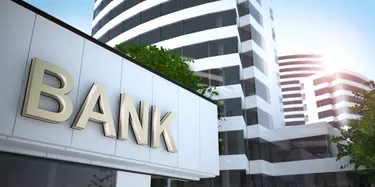 Occasionally, Bank of America offers bonuses for every new member you bring their way. The BofA refer-a-friend program is designed to encourage signups, offering $25 to the referrer and $150 to the person who successfully opens an account. Currently, Bank of America doesn't have a referral program in progress, but you can earn rewards by signing up for a credit card or choose another lender that is offering referral incentives right now.
What Are Referral Bonuses?
Bargain hunters are always on the lookout for ways to bring in extra money for things they're already doing. Whether it's a shopping app or a credit card that earns rewards points, with minimal effort customers can earn money or prizes to put a little extra money in the bank. Referral bonuses are a great way to make some extra money, whether it's from a gym membership or a vacation rental service.
Referral bonuses are a win for the consumer and the company offering them. On the business end of things, they encourage existing customers to tell their friends and family members about a product or service. If you're the customer getting the referral, you'll usually find that both you and your friend get a reward.
Financial institutions like Bank of America use referral programs to add accounts. A fee of only $25 is much cheaper than the cost to run ads or pay for marketing services. In Bank of America's case, the referral bonus is offered alongside a program that offers cash rewards for each signup, so the member would get $25 and the friend would receive $150. That $150 makes it much easier to convince someone to sign up.
Bank of America Referral Bonuses
When there's a Bank of America referral program taking place, you'll get a small bonus for every person you refer, with a limit of 10 referrals. In the past, this program has operated in conjunction with bonuses for opening an account, as long as you met certain requirements. The program was last offered in 2018 and is designed to win new customers for their banking services.
When the program is active, you'll be given instructions from BofA on how to ensure you get your bonus. The most recent instance of the program sent an email to BofA members with the subject line, "Make up to 10 successful referrals, get up to $250." You simply needed to follow the instructions in the email and wait for friends to join so you can get paid.
But that doesn't mean you can't save money by heading over to Bank of America and opening a new account. Bank of America almost always has a few specials connected to opening certain types of accounts. These offers have expiration dates attached to them, so you may need to wait until there's a bonus for an account type you're interested in opening. There's typically a chance to earn bonuses of $100 or more for opening a new account.
BofA Credit Card Rewards
Even when there isn't a Bank of America referral program in progress, there are plenty of benefits to having an account at the bank. The rewards-based credit cards offered by Bank of America are popular for their money-saving features. You'll get points for every dollar you spend, and you can redeem those points for gift cards or cash deposited into your account.
Even if you don't get a BofA credit card referral bonus, though, there are plenty of reasons to tell friends about it. There are multiple types of reward cards, with your benefits depending on the card you choose, but you may have friends or relatives who like the array of options available through BofA.
The Cash Rewards card offers up to 3 percent off, with the highest savings being the category you choose. If you spend most of your income on online shopping, you may opt to make that your highest-earning area.
BankAmericard is ideal for your friends who are trying to get out of debt. They can transfer debt from another card and enjoy 15 billing cycles without interest.
Travel Rewards is for your friends with wanderlust. They'll earn 1.5 points for each dollar they spend, and they can use those points on flights, hotels, cruises, rental cars, baggage fees or travel packages.
Premium Rewards is for your high-spending friends. They'll get more points toward rewards, but they'll also pay a $95 annual fee. The other plans have no annual fee.
Using BofA Promotion Codes
Whether it's a BofA refer-a-friend program or another promotion, you'll need to know how to sign up for an account in a way that ensures rewards are issued. Bank of America uses something called an offer code, which is a series of numbers and letters you'll be issued so that you can claim the promotion. You'll see that offer code on print or digital materials promoting it, although you may need to look closely to find it.
Today's borrowers can apply for any of Bank of America's accounts online at BankofAmerica.com. You'll choose the type of account you're interested in, complete an application and wait for an email confirming whether your application was accepted or denied. Before you apply, you'll need to gather any promotion codes, along with an account number or debit card number to make the initial required minimum deposit.
Finding Banks with Referral Programs
If the BofA refer-a-friend program was your sole reason for considering banking with them, there may be other options. Deal-hunting consumers know that bank referral programs can be among the most rewarding available. But many of the big, corporate banks aren't currently offering any incentive for referring friends.
Your best bet if you have a large friends group, many of whom may be swayed to change banks, is to go with a local bank or credit union. Look around for one that incentivizes referrals with financial awards. Keep in mind that you don't have to use a bank down the street from your house. You can bank within your region or even across the country, as long as you can access the services you need from where you live.
One big bank that regularly offers cash for referrals is BB&T, a growing North Carolina-based bank with branches in 15 different states and Washington, D.C. You'll get $50 when you open a new account, as well as $50 for each friend you successfully refer, topping out at $250. You can get your friend code through the BB&T website once you're a member.
Credit Card Referral Programs
Although there's no BofA credit card referral program at the moment, there are plenty of other credit card issuers offering incentives for signing friends up. One of the biggest is Chase, which has seven different referral bonus options, depending on the credit card your friend chooses. Your reward will come in the form of extra points that you can redeem for various rewards.
If you're a frequent traveler, you may prefer a Marriott or Southwest Airlines credit card, each of which helps you earn points toward future travel. You'll get extra points for each new cardholder you send their way. Of course, Disney visitors are probably well aware that successfully signing a friend up for the Disney Visa will earn 50 Disney Rewards Dollars for each referral.