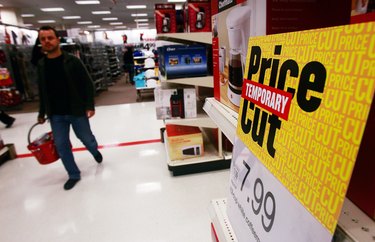 If you have ever searched for something at Target, only to discover it is out of stock, you can ask a red-shirt but may not always get an accurate answer. Instead, you can check Target's backroom yourself for the item in question. It is just a matter of knowing how to use the price scanners.
Step 1
Write down what appears on the shelf price tag. This includes item name, price and more. If it is a clearance, red tag item, use the red price tag. Be sure to also include the DPCI number. This is Target's proprietary inventory tracking number, not the UPC number. The DPCI is nine digits and formatted similar to a SSN: XXX-XX-XXXX or XXX XX XXXX.
Step 2
Locate a red Target price checkers/price scanner. It must have a functioning number keypad, usually on the right.
Step 3
Start entering your DPCI number on the number keypad as long as the price scanner is prompting you to scan your item. You should see the screen switch and display what you type. When finished, press "Enter."
Step 4
View the results. The price scanner will now give you a relatively accurate snapshot of the inventory for that item. You will now know whether any remain in the stockroom or elsewhere out on the floor.
Tip
Target DPCIs are universal. You can use a DPCI to check stock at any Target, especially helpful when trying to find a special clearance item. Often, Internet forums will post the DPCIs of especially good deals.
Warning
Though this is a more accurate inventory check than online, it is not guaranteed. The system has no way of knowing if someone has an item in his cart and it is unclear how long it takes for an item to be deducted from inventory after checkout.