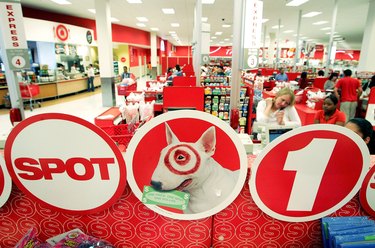 The pandemic was always going to change everything about the holidays in 2020, even if it had been solved by now. Yet as our biggest shopping season draws ever nearer, we're still dealing with social distancing, the necessity for masks, and the specter of food shortages. That hasn't stopped American ingenuity, though, especially when it gives an outlet for some old-fashioned spending.
While much of our retail has moved online during the COVID-19 outbreak, there's still a place for in-person shopping. Target has decided to make that as attractive and safe an option as possible, which is why the retailer is offering reserved time slots for holiday shoppers.
"For the health of our guests and team members, we're currently limiting the number of guests inside our stores," states a message at the top of target.com/line. "We'd still love to see you, so we made it a little easier to get in line." There, you can see if your closest Target locations are busy and reserve a spot for shopping, if so.
Target isn't the only big box retailer adjusting to COVID. Walmart has changed up its Black Friday plans by spreading the sales events over three separate days, both online and in person. It's worth noting, however, that staggering numbers of small businesses and local institutions are in danger of going under or already have, due to the pandemic. While major retailers have their place in our shopping ecosystem, keep an eye out for shopping opportunities that will make your dollars count close to home.