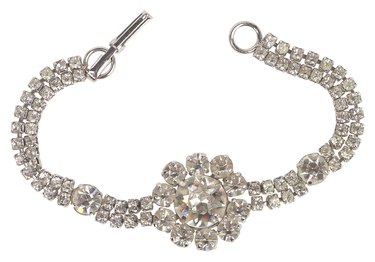 Diamond trading is a niche field which, while lucrative, is difficult to break into. One of the many stops along the diamond trade chain, the trader works between the globetrotting buyers and the cutters, buying diamonds from the latter and selling them to the former. Those with a zest for a beautifully cut diamond will find the diamond trade rewarding financially and emotionally.
Diamond Trading
A diamond dealer buys directly from a diamond mine owner and sells the product to a diamond buyer. The buyer sells to the diamond trader, who often finances the buyer or buyers he purchased from. In turn, the diamond trader sells to the diamond cutter who makes the commercial gems from rough stones pulled out of the mines.
Becoming a Diamond Trader
Becoming a diamond trader takes years of study and interest in the diamond trade. You must possess extensive knowledge of the stones, how they are made, what makes a good one, what makes a bad one and how much they are worth. Membership in professional organizations is often necessary for reputable contacts, a must for those wishing to foster the growth of ethical diamond trading. Working in other areas of the industry, such as a cutter or a wholesaler provides valuable experience.
Jobs as a Diamond Trader
To work as a diamond trader, you need to work for a diamond trading company. The diamond industry is organized horizontally to a certain extent, with many diamond mine companies owning trading companies. For example, DeBeers owns the Diamond Trading Co., which sells half of all the rough diamonds in the world. Thus, employment options are limited, with just one company occupying half of the market.
Diamond Trader Salary
The U.S. Bureau of Labor Statistics does not keep figures for the salary of a diamond trader, making an official number hard to come by. The jobs site Simply Hired, however, keeps statistics based on job postings. The site estimates that the average diamond trader earns $85,000 per year, with wide variations between locations and companies.