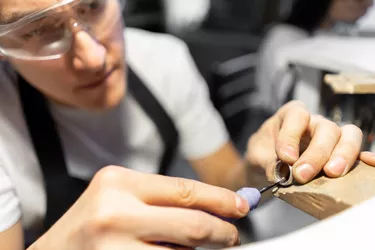 A jeweler's trade includes wholesale or retail sales, repairs, appraisals, design and manufacturing. Jewelers can work in large retail chain jewelry stores, small businesses and for themselves as home-based, self-employed workers.
When looking into how to become a jeweler, you'll find that whether you need a license depends on the level at which you enter the trade. Although you do not always need a license to sell jewelry, some employers may require you to receive on-the-job training or hold a license to work in the field. You also need jurisdictional business licenses to become a jeweler who operates a retail jewelry store.
Certified gemologists are licensed jewelers who have the training to determine the value of fine jewelry and to identify unknown metals and gemstones. Such jewelers sometimes work for jewelry stores. Their certifications lend credibility the quality and pricing of a jewelry wholesalers' or retailer's products. Certified gemologists also work independently, offering appraisals to individuals and businesses seeking jewelry valuations for the purposes of estate planning, insurance policies and liquidations.
Education and Jewelry Certification
In the United States, the Gemological Institute of America is the leading provider of jewelry certification and training. The GIA offers the widely recognized graduate gemologist certificate, or G.G. certificate, often posted in fine jewelry stores when such certified persons are on staff. So, if you're interested in how to be a jeweler, this organization's offerings are helpful.
The GIA provides its courses of study in a format similar to that of a college with lectures and lab modules offered in traditional on-campus and self-paced distance-learning options. The G.G. certificate takes around six months to complete, and United States citizens can finance a GIA course of study with many types of financial aid. For example, students can receive grants and loans by filling out a FAFSA as well as possibly receive scholarships from the GIA.
The American Gem Society also certifies jewelers, although you must have earned the GIA G.G. certificate to qualify to take the certification exam.
Working as a Jewelry Craftsperson
Jewelry craftspeople learn jewelry-making on the job as new employees, as apprentices or in artisan workshops. Jewelry craftspeople are trained to work with precious metals and gemstones, either manufacturing, modifying or repairing jewelry. You do not need a license to work as a jewelry craftsperson. However, employers who do not offer training may require you to demonstrate experience, shown through your portfolio and with references from jewelers under whose tutelage you trained.
Being a Jewelry Salesperson
Jewelry salespeople, sometimes referred to as jewelers, are the first point of contact in a jewelry store. Some jewelry salespeople are certified gemologists, but most are experienced salespeople whose extensive professional knowledge of jewelry – sometimes inspired by personal experiences including jewelry ownership or family ties to the profession – help them excel in the field. You can gain experience in jewelry sales by applying for entry-level job openings as they occur.
Business Licenses for Jewelry Shops
You might also wonder, "Do you need a license to open a jewelry store or be an entrepreneur in the industry?" In these cases, you should consult your local government for business license requirements in your area. You must then obtain the licenses required by your jurisdiction – county or city – to operate legally. Such licenses could include a standard business license and a resale license, which allows you to purchase inventory wholesale – be it jewelry components or completed pieces – and to tax consumers for purchases.