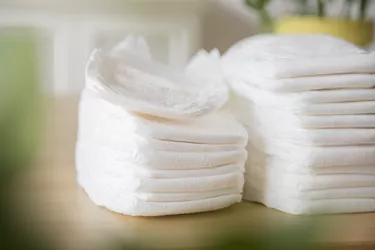 One of the biggest issues new parents face is an increased budget to accommodate for diapers, wipes, formula and other ongoing baby supplies. In fact, Walmart points out that parents spend an average of $527 on national brand diapers alone during the first year of a baby's life. That's because babies use approximately 2,474 diapers during their first 12 months. One way to ease the financial burden for the new parents in your life is to gift them a one-year supply of diapers.
One way to purchase a one-year supply of diapers is to visit your local retail store and fill your cart with the appropriate number of diapers for each size. Walmart estimates parents will use 930 diapers during the zero to 3 months stage, 644 during the 3 to 6 months stage and 900 during the 6 to 12 months stage. Of course, diapers come in packs, so you'll need to divide the number of diapers in each pack by the total number of diapers needed to determine how many packs to purchase. For example, if there are 32 zero to 3 months diapers in a pack, you'll need to pick up 30 packs of diapers in that size.
Use a Subscription Service
There are several subscription services that allow individuals to purchase a subscription as a gift for new parents. IncrediBundles.com is one such service. This company has a $719 yearly subscription that includes a gift announcement and an adorable plush teddy bear, which arrive gift-wrapped in a reusable box. Parents are provided with instructions on how to redeem the gifted subscription and choose the diaper brand and size they need.
BabyShowerByMail.com is another popular choice when it comes to subscription services. The company allows you to create a personalized greeting that they will then send along with a welcome kit to the new parents. The welcome kit includes a toy, a beautiful card and instructions on how the service works. Just like IncrediBundles.com, parents can choose from popular brands like Huggies and Pampers. A 12-month subscription with this company costs $780.
Use Amazon's Subscribe and Save
If you are an Amazon Prime member, you can actually save 20 percent on diapers using Amazon's Subscribe & Save program. This discount really adds up over the course of a year. You'll need to create your own certificate to let the new parents know you are gifting them with a year's worth of free diapers. Then, you'll need to have the parents let you know which brand of diapers they'd like to go with, as well as the size and number of diapers needed. You can then use Amazon's service to place the order each month and have the diapers shipped directly to the new parents.
Alternative Cloth Diapers
Some parents opt to use cloth diapers, as they are more eco-friendly. You'll want to check with the soon-to-be parents to determine their diaper preferences. Should they wish to use cloth diapers, you'll need to make sure you purchase the right amount. What to Expect recommends having 30 to 36 cloth diapers on hand in each size. So you'll need at least 30 in size zero to 3 months, 30 in size 3 to 6 months and 30 in size 6 to 12 months to cover a full year.
Another option is to gift the new parents with a year's subscription to a cloth diapering service. The company provides clean diapers each week, eliminating the need to purchase any diapers at all. The soiled diapers are also cleaned for parents, which frees up time to spend on more important tasks. Most companies only serve a specific area, so you'll need to search to find one near where the parents live. For example, Monkey Butt provides services for the Atlanta, Georgia, area, while Green Spring Diapers caters to parents in Baltimore, Maryland.