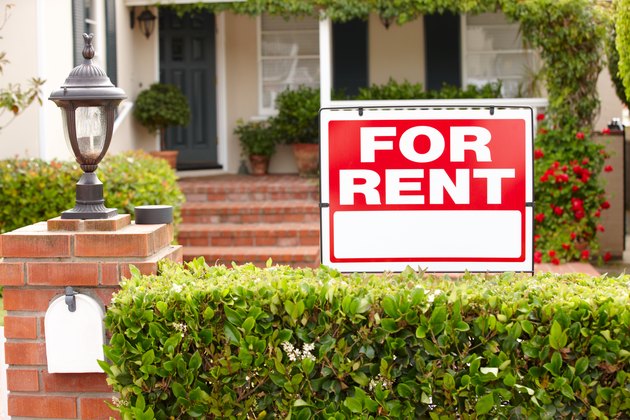 Tip
Offer to do maintenance or repairs in exchange for a rental discount.
There are many good reasons to rent a private home. In the current market, with homes losing value, the renter suffers no decline in asset value. If a renter needs to move, he can do so with minimal difficulty. Renters get to enjoy a home without the hassles (and expense) of major home repairs and maintenance. When the roof needs replacing or the basement springs a leak, the homeowner/landlord will have to get them fixed and pay for the repairs. The renter only has to call the landlord.
Step 1
Choose the neighborhood where you want to rent. Consider commute to work, quality of the schools, character of the neighborhood and other factors.
Step 2
Cruise the neighborhood. Some rental homes will have a "for rent" sign in the yard.
Step 3
Look for home rental ads in traditional classified media such as local newspapers, magazines and advertisers. Also be sure to check the Internet for local community groups, Craigslist and home rental sites.
Step 4
Be creative in finding other sources of rental ads. For instance, large employers will usually allow employees to post classifieds in their employee newsletter. Real estate and property management offices will have listings, as will colleges and universities. Bulletin boards at grocery stores, laundromats, post offices, libraries and community centers are other sources.
Step 5
Make an appointment to inspect the property and meet the landlord. Be alert for signs that the property has not been well maintained. A landlord who hasn't bothered to clean thoroughly before showing the home, for instance, will probably be slack about responding to your concern should you rent the home.
Step 6
Be prepared to complete a rental application. You will need to provide the driver's license, vehicle registration, social security number and employment and rental history for each person who will be living in the home. Many landlords will also require authorization for a credit report and possibly a background check. Bank account information may also be requested.
Step 7
Read the rental agreement (short term, month to month) or lease (six months or longer term) carefully before signing. Sign only if you understand the document and can abide by it. Most states have laws protecting tenants rights and the lease should reflect those requirements. Ask for whatever changes you feel are necessary. Be sure the agreement includes written permission for your pet, for instance. Do not rely verbal guarantees.
Step 8
Obtain renter's insurance to protect your personal property in the event of fire, flood, theft or damage. Generally, renters are not covered by the landlord's policy.