A cheese plate can be a great contribution to a party, a fun way to impress a date, or a low maintenance dinner of the fly. Sometimes it's hard to know which cheeses to pick, and it can get expensive to buy new and unusual cheeses in most supermarkets.

Fortunately, there's an easy solution: your local Aldi. If you haven't shopped at Aldi before, you should know that it's a little different than the other grocery stores where you've shopped. It's smaller than most, and the cashier won't bag your groceries. You'll need to bring your own bags, and a quarter deposit for the shopping cart. However, the discounted prices at Aldi are well worth the inconvenience...and they have an impressive cheese selection!

For your cheese plate, you'll want to choose a few different cheeses to contrast each other in taste and texture. It's great to also choose a variety of crackers or breads to serve with the cheese. And you'll add something extra special if you serve the cheese with olives, meats, nuts, or fruits.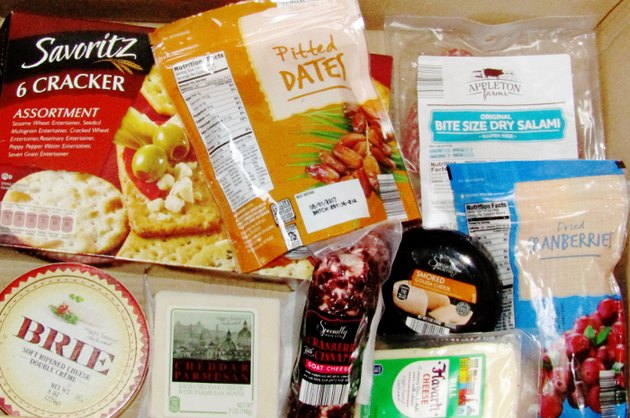 Here's what I picked up at Aldi for my cheese plate.

6 cracker assortment, 2.99
Dill Havarti cheese, 2.99
Double Creme Brie, 2.99
Smoked Gouda, 2.99
Parmesan-style Cheddar 3.49
Cranberry coated goat cheese, 3.99
Dried salami slices, 3.49
Dried cranberries, 1.59
Dried dates, 1.89
The perfect plate has something creamy, salty, spicy, sweet, crunchy, savory, and citrus-y. I have that all covered here for just are $26 -- and this all should serve 8-10 people.
Your Aldi might vary slightly in selection and prices, but you can let the products on the shelves inspire your creativity for your own special cheese plate. Slice the cheese and arrange artistically on a large plate or platter, and enjoy the savings!