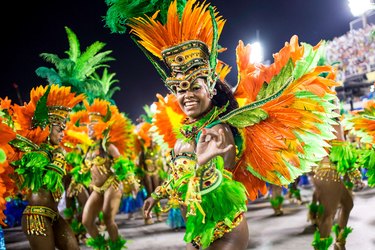 When we talk about Brazil the first thing that comes to everyone's mind is Carnival -- and rightly so. That is the biggest festival in the South American country and it's considered the greatest Carnival in the world. It is something you should do at least once in a lifetime.
Although the parties take over the whole country between the Friday afternoon prior and up to noon on Ash Wednesday, the most famous Carnival parties take place in Rio de Janeiro. Here are our tips for you plan your trip and have an unforgettable party:
Tickets
Right now it's possible to find tickets from around $800 with departure from Los Angeles. But a little advanced planning gets tickets down to about $550. Keep in mind that Carnival happens in February, but it doesn't have a fixed date.
Lodging
There are countless hostel options in Rio. However, since it's the most important party in the country, the prices are not that friendly. What I do every year is check places on Airbnb and Alugue Temporada . You can find a nice apartment for 6 people for about $2,000 per week. This is your best bet for group travel. If you are traveling solo, there are internet forums and Facebook groups where you can find vacancies in those houses.
Before making your decision is always good to check a few things:
How many people will stay at the house?

Check if is there is a metro in the neighborhood. During Carnival, getting a taxi or bus in Rio is almost impossible. The metro typically is the best option. I always get a Metro Card and charge it with $20, you should be good for the week!

Places such as Copacabana, Ipanema, and Leblon are good areas to stay. Beware of any deals that seem to good to be true. Poke around and read reviews.
Checking out the parade
The famous Carnival parades take place Friday and Thursday. However, the main days are on Sunday and Monday; that's when the most important Samba Schools make their presentations. You can buy tickets online, but I always get mine outside the Sambodromo, for about $30. You need to bargain and it helps a lot if you have someone who speaks Portuguese to handle the deal.
Being part of the parade
If you want to have a full experience, you can be part of the parade. Of course you won't be the highlight, but you can buy a costume and perform with all the dancers in the parade. At the official site you can find costumes from $132.
Blocos
Blocos are huge, wild, traveling street parties all around Rio. Although the parades are the highlight in the international news about Carnival, the most fun you can have is partying in the streets at the blocos. Rio has more than 300 blocos all over the city, so choosing 2 of them per day can be difficult.
Some blocos can put together 1 million people, which sounds cool! But don't forget that it will be over 100 degrees. I always avoid the most famous ones such as Cordão da Bola Preta, Sargento Pimenta, and Monobloco.
My suggestions are the blocos are Blocos da Favorita, Céu na Terra, Bagalafumenga, and os Barbas. They have thousand of people on the streets, but they are all fun and controlled choas.
You can download apps such as "Guia da Boa" that rate the blocos. Try to arrive always have an hour before the blocos start.
Safety
I never had issues during Rio's Carnival, but it's always good to be careful. Don't bring expensive things to the blocos such as watches, cameras, or your brand new phone.
I always bring $50 in small bills and some change with me. Keep your money on a money belt inside your shorts.
Never bring your original documents, but make a photocopy of your passport and bring it with you.
Hydrate yourself all the time. And I'm not talking about beer. Always have a bottle of water with you.
Comfort
We all want to be creative on Carnival. But remember it's summer in Brazil, so make sure you have a fresh outfit. A good idea is to have a bikini top under your costume.
Since you are going to walk and dance the whole day, use sneakers or flats.
Think outside the parade
Although Carnival is amazing, when will you get the chance to go to Rio again? The parties go on for 24 hours during that week, and it can be demanding. So enjoy your stay in one of the most beautiful cities in the world. Go to the beach, appreciate the sunset on Arpoador, check out places like Cristo or Jardim Laje.