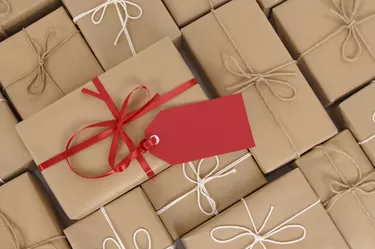 If you've got friends or family in Canada, sending a gift involves more than just paying the mailing rate to the Great White North. Whether you send your gift via the U.S. mail or a private delivery service, such as FedEx, you must fill out certain documents pertaining to the gift's value. As of 2014, the recipient must pay gift duties on any present worth more than $60 Canadian, which equals about $61 in U.S. currency.
United States Post Office
If shipping a gift to Canada via the USPS, the maximum size can't exceed 46 inches in length and height and 35 inches in width. A package must be sufficient size to include the shipping label -- 9.5 inches long and 5.5. inches wide -- and necessary postage. The total package weight can't exceed 70 pounds. The value of the contents, capped at $2,499, must be included in the shipping label. Include the recipient's phone number as well if the address is a P.O. box.
Delivery Services
If you ship a gift to Canada via delivery service, you must indicate that it is an "unsolicited gift -- not for resale" on the shipping documentation, along with a complete description of the contents. If sending several gifts together in a box, you must identify each one on the shipping documents.