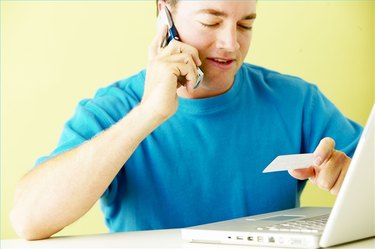 How to Pay Bills by Phone. Many companies, especially utility companies, offer pay-by-phone services. These services are helpful when you are out of town, are late getting your check in the mail or have cash-flow problems and need to pay bills by credit card. Here's how you get started.
Step 1
Call the companies that bill you monthly (utilities, telephone, cable, garbage and so on) and ask whether they offer pay-by-phone service.
Step 2
Ask whether they charge a fee for the service.
Step 3
Ask what credit cards and ATM cards they accept.
Step 4
Ask whether you need to sign up for the service or whether you can use it right away.
Step 5
Ask what telephone number you need to call when you use the service.
Step 6
Call the designated number when you're ready to use the service.
Step 7
Enter your password or identification number.
Step 8
Enter your credit card or ATM number.
Step 9
Enter the card's expiration date.
Step 10
Enter the amount you want charged to the card.
Step 11
Write down the verification number they give you.
Step 12
Call customer service with any questions or concerns.
Tip
Some companies charge up to $10 per use for pay-by-phone services. Make sure you know what fees are involved. Several Internet banking companies offer bank-by-phone services. First, you give them your billing information, then you call once a month and give them the go-ahead to pay your bills. Enter "bank by phone" into your Internet search engine for more information.
Things You'll Need
Telephone Book

Telephones

Paper And Pencils
Warning
Avoid giving out your credit card number over a cell phone.