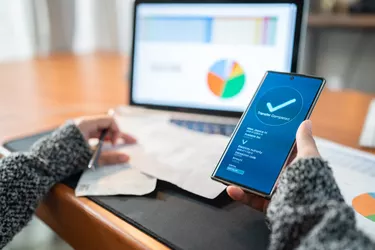 Paper checks are no longer as popular as they once were. This payment method still accounts for over 40 percent of business-to-business transactions, according to the Association for Financial Professionals, but it's slowly being replaced by safer, more convenient options. Electronic checks, or eChecks, have shorter processing times and lower fees than standard checks, allowing for faster transactions. These financial instruments enable consumers to send and receive money digitally without having to wait in line or file paperwork.
The Technology Behind eChecks
An eCheck contains the same information as a traditional paper check, but it's issued electronically. This form of online payment became mainstream in October 2004 when the Check Clearing for the 21st Century Act (Check 21) came into effect, explains the Federal Financial Institutions Examination Council. Consumers and merchants alike can make eCheck transactions via the Automated Clearing House (ACH), a system that facilitates electronic fund transfers. The money is withdrawn from one checking account and is deposited into the payee's bank account within three to six business days or even faster.
Think of eChecks as a digital version of paper checks. The difference is that you can make payments via online or mobile banking, which ensures the security of your data. What's more, this technology eliminates the risk of losing or misplacing a check and can improve the user experience. It works similarly to credit card payments, but the transaction is processed through the national ACH network, resulting in a faster processing time, increased convenience and lower costs.
ACH payments are also more secure than debit or credit card payments, as they require your digital signature and use advanced encryption protocols to detect and prevent check fraud. Government agencies use the ACH network to pay tax refunds, wages, child tax credits and more, reports the National Automated Clearing House Association (Nacha). Private companies, on the other hand, rely on this system to pay suppliers, make donations and honor insurance claims.
Paper checks are costly and can be altered or forged. This payment method also exposes your bank account information, making it easier for criminals to steal your data. While both paper checks and eChecks can be used for scams, according to the Federal Deposit Insurance Corporation, the latter option is more secure because it leaves a digital footprint.
First of all, it has more advanced security features (e.g., authentication, encryption and digital signatures) than paper checks, reducing the risk of fraud. Second, you can pay directly from your smartphone or computer within minutes. All you need to do is enter your account number and routing number along with the amount you want to pay. There's no need to print the check, mail it with the remittance stub and so on. Everything is done electronically, saving you time and money.
eChecks can also streamline electronic payments between vendors and customers. For example, business owners can integrate this service with a payment processor, like Authorize.net or PayPal, to better manage their finances. Doing so can simplify accounting and give you a more complete picture of your cash flow. Other benefits of eChecks include reduced processing fees, no transaction limits and the ability to manage recurring payments more easily.
As far as drawbacks go, consumers have only ​40 days​ to dispute a transaction or make a chargeback if they encounter issues related to the eChecks received, according to Federal Reserve Bank Services. Other services, such as ACH direct payments, allow up to ​60 days​ for consumers to open a dispute, notes Nacha. Just like with paper checks, there's also a risk of fraud and errors, but that can happen regardless of the payment method used.
Now that you know how eChecks work and what their advantages are, you may wonder whether this option is safer than other methods of payment, such as debit or credit cards. Here are some things you should know before making an eCheck payment.
Is It Safe to Deposit an eCheck?
An eCheck is not too different from a paper check. With either option, you can print and deposit the check at a bank, credit union or ATM. Alternatively, you may deposit the funds via online or mobile banking. This process is just as safe as or even safer than handling traditional checks.
Are eChecks Safer Than Credit Cards?
An electronic check is one of the safest payment options for merchants. It's actually safer than a credit or debit card because you don't have to give away your bank account number and other sensitive information to receive a check payment. Additionally, eChecks carry a lower risk of chargebacks and have lower fees than credit cards.