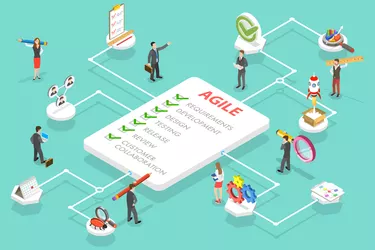 Often working in the tech field, a scrum master facilitates product development teams that use the agile development framework called scrum. Utilizing goal-oriented development blocks called sprints, this framework focuses on iterative development that offers flexibility to adapt to both fix issues quickly and find ways to increase the final product's value. Serving as a coach, the scrum master guides the product development team on using the scrum framework properly to optimize the workflow.
Learn more about the scrum master career including duties, requirements, certifications, salary estimates and employment prospects to see if this occupation appeals to you.
Understanding the Scrum Master Role
According to Scrum.org, a scrum master works under the product owner, who is the main stakeholder responsible for the product's development and communicates with other stakeholders. Since the product owner focuses on maximizing value, the scrum master must help get rid of roadblocks and help find efficient ways to manage the product backlog, which shows the product's requirements ranked by priority.
In addition, the scrum master is a servant leader to the project's cross-discipline team members completing the actual work. They serve as a facilitator who makes sure the development team adheres to scrum processes and scrum values carefully and provides coaching as needed. They ensure the team understands the product's scope, handles prioritized backlog items productively and addresses any impediments – such as workforce issues or a poor environment – that arise.
The scrum master role has some similarities to a project management position. However, the University of the Cumberlands clarifies project managers have more flexibility in the framework they use and usually have a larger role where they oversee multiple teams and have more control. While maximizing value and coaching are the focuses of a scrum master, a project manager works on managing resources for complex projects and acts more like a leader than a coach.
Serving as a coach, the scrum master offers the product development team guidance on using the framework properly to optimize the workflow.
Specific Scrum Master Job Duties
According to the software company Red Hat, the duties of a scrum master focus on creating a self-organizing team who can be innovative and do teamwork efficiently. A key part of this involves scrum events like the daily scrum meeting – often called the daily standup. This meeting lets team members share accomplishments during the current iteration along with current plans and issues faced. This gives the scrum master a way to address issues promptly and ensure members are completing the prioritized tasks.
When a sprint has been completed, the scrum master meets with the team, product owner and possibly other stakeholders to both celebrate progress and determine any needed changes, explains Scrum.org. This meeting is called a sprint review and involves checking off product backlog items that the team has completed, sharing specific challenges faced and having a question-and-answer session regarding the iteration. The sprint master ensures the team is clear on the next steps of product development.
Before the next sprint planning process begins, the scrum master will facilitate another event called the sprint retrospective. This focuses on using continuous improvement to implement lessons learned from the last sprint and determine how to prevent impediments from affecting the next sprint. For example, the scrum master may decide the scrum team needs coaching on scrum or some additional team members to take on the tasks efficiently.
According to O*NET OnLine, scrum masters often have a bachelor's degree and ​81 percent​ of employers surveyed requested either an undergraduate degree or certificate. You might study project management or opt for a broader business- or technology-related degree. If you already have a degree, you might seek a short-term certificate program specifically on the scrum framework fundamentals instead. As Saint Louis University explains, such programs include a few courses and help qualify you for professional certification later as well.
Western Governors University notes that employers often look for a scrum master certification such as the Professional Scrum Master (PSM) credential through Scrum.org or the Certified ScrumMaster (CSM) credential through the ScrumAlliance. These come in different levels such as the PSM I option covering fundamentals and the PSM II covering advanced concepts. Qualifying to take scrum certification exams may require completing qualified courses of workshops covering agile project management and specific scrum principles.
For example, the ScrumAlliance says you'd need to take an approved course of at least ​14 hours​ from a scrum trainer before you can sign up for the 50-question CSM exam. On the other hand, Scrum.org explains you'll need to understand agile scrum principles thoroughly, but it doesn't require a course for the 80-question PSM I exam. The organization suggests resources to read to help you prepare.
Other Important Scrum Master Skills
While understanding the scrum framework is crucial, scrum masters need other skills to be successful at the job too. For example, you'll need to have excellent organizational skills to guide the team so they complete their tasks on schedule as well as lead meetings and coordinate resources. Interpersonal skills are a must for helping address issues with the team's dynamics, and you need to be an effective motivator. Since scrum is an iterative framework, you must be able to adapt as well.
Scrum Master Pros and Cons
One benefit of being a scrum master is that you can get satisfaction from solving problems and helping your team members succeed as they prioritize tasks and meet the product timelines. The job also is varied since you'll always be looking for ways to improve processes and the product, and there's room for creativity. You'll also benefit from room to grow in your career, whether you continue on to earn more advanced scrum certifications or move into a product owner, project manager or executive role.
One downside is that job listings often ask for at least a few years of experience working with agile teams and following scrum principles. Therefore, you can find your job search harder if you want to become a scrum manager without relevant experience. The Scrum Alliance suggests trying out the scrum framework for personal projects, setting goals, seeking ways to boost productivity and learning from others who work in the role. That way, you can discuss your initiative and successes during a future job interview.
Scrum Master Career Prospects
If you explore LinkedIn or other job sites, you'll find that scrum master jobs exist in various businesses that use scrum methodology for product development. While you might work for a software development firm, you could also work for a bank, airline, healthcare organization, insurance company or retailer.
Between 2020 and 2030, the Bureau of Labor Statistics expects ​nine percent​ job growth for its computer occupations category, which includes scrum masters and IT project managers. This is just above the national average of ​eight percent​. Having a degree, scrum master certification and relevant experience can benefit you during your job hunt.
The BLS reported an average salary of ​$98,180​ in 2021 for the computer occupations group, including scrum masters. On the other hand, PayScale listed the average scrum master salary at ​$90,031​ in August 2022, with most of them earning between ​$63,000​ and ​$126,000​. Having a scrum master certification can affect your salary potential too. In August 2022, PayScale reported an average salary of ​$94,986​ for someone with the CSM credential, and most of them earned between ​$65,000​ to ​$127,000​.