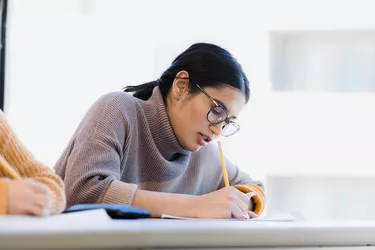 The Project Manager Professional certification is said to be the leading certification for this type of work. More commonly known as simply the PMP certification, it's recognized all over the world. More than a million project managers hold it. Achieving this PMP credential can set you apart from others in your field and help you get your foot in the employment door of your choice. But that isn't to say it's easy.
What Is PMP Certification?
The PMP certification is provided by the Project Management Institute (PMI), a nonprofit organization first launched in ​1969​ to assist those who want to go into the field of directing projects. Having the certification tells prospective employers that your people skills are commendable and that you've mastered all the intricate fundamentals of the project management process. It speaks to your knowledge of various business organizations.
It's not a "forever" certification. It's only good for ​three years​, but you can renew it if you've earned 60 professional development units or "PDUs" during that period. PDUs are hours spent on professional development activities. They can include public speaking on project management and participating in certain industry events as well as working in the field.
You must take and pass the exam again if you haven't achieved ​60 PDUs​. The process repeats every three years.
How to Earn PMP Certification
Becoming a certified associate in project management, requires meeting eligibility requirements and passing the exam. The good news is that you can take the test at home, on your own time, if you prefer. It's available online, but you can also go to a testing site.
You can't take the PMP exam unless and until you've met some prerequisites and experience requirements. These include ​35 hours​ of project management education or training. A Certified Associate of Project Management (CAPM) certification is acceptable in lieu of the 35 hours. You must have at least a high school diploma, but you'll need more months of hands-on project management experience if you don't have a four-year degree, commonly referred to as a bachelor's degree. The requirement is ​36 months​ if you have a four-year college degree, or ​60 months​ if you have an associate's degree or a high school diploma.
The exam was revised on ​Jan. 2, 2021​ to include ​180 questions​ rather than 200. Methodology covers three domains or phases of project management and three approaches: hybrid, agile and predictive. You can take two 10-minute breaks now instead of the one you were entitled to before 2021. The exam takes ​three hours and 50 minutes​ to complete and includes a variety of question types, from "fill in the blanks" to multiple choice.
You must apply to PMI and cite your experience requirements in order to enroll to take the test. Exam preparation courses are available online.
Having PMP certification will get you noticed when you apply for a position, and you can expect to earn about 20 to 25 percent more than those who aren't certified.
PMP Certification Exam Cost
The costs of this project management certification are multilayered and ongoing. The exam cost will set you back ​$405​ as of ​2021​ if you're a PMI member. Otherwise, it's ​$555​ for non-members. Membership in PMI is ​$129 a year​, plus a one-time application fee of ​$10​. Exam prep courses can run as much as ​$2,000 to $2,500,​ and you might want to buy and study up on PMI's Guide to the Project Management Body of Knowledge, also known as the PMBOK Guide.
The three-year certification renewal will cost you ​$60​ if you're a member or ​$150​ if you're not.
Is PMP Certification Worth It?
The field of project management is booming, according to PMI. It's estimated that it will grow by ​2.2 million​ new positions each year through ​2027​. This covers industries including transportation, information technology, healthcare, construction, manufacturing, banking, architecture and risk management. Stakeholders in these business environments will be looking for certification holders.
Having PMP certification will get you noticed when you apply for a position, and it will earn you a higher salary. You can expect to earn about ​20 to 25 percent​ more than those who aren't certified. The median salary for PMP certified project management professionals was ​$123,000​ in a recent survey, compared to ​$93,000​ for others. "Median" means half of all professionals earned more than these figures and half earned less.