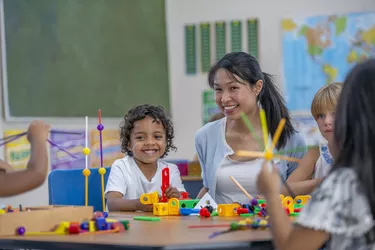 Day care workers are always in demand, especially in areas of the country seeing high population growth. The education and certification requirements can vary by state, but you'll likely need at least a high school education to land a job. However, if you have a postsecondary education or early childhood education credential, you could qualify for a higher-level position.
Certification for Day Care Workers
There is no federally mandated certification for day care workers. Instead, state regulatory agencies usually set requirements. Some states and employers require child care workers to have a nationally recognized credential. If this is the case and you're required to meet certain day care worker certification requirements, it will probably be the Child Development Associate credential from the Council for Professional Recognition. You'll have to complete coursework, gain some experience in the field and go through an observation period.
Certain states have their own process for preparing day care workers for the job. The State of Florida requires ​40 hours​ of training through a program approved by the state. State of Ohio licensees have to complete a training program approved by the Department of Human Services.
Whether state regulations require certifications or not, potential employers have every right to set those requirements. So getting a Child Development Associate certification could help. But be aware that CDA credential costs are ​$425​, so unless jobs in your area are competitive, it might be worth applying without it.
CPR Certification for Child Care Workers
Whether required or not, CPR certification can serve you well in your career as a child care worker. Whether you're watching children in your home, babysitting as a teenager or working in a facility as a day care worker, this certification will give you the peace of mind of knowing you can perform emergency care. It also looks great on a child care worker's resume.
There is no federally mandated certification for day care workers. Instead, state regulatory agencies usually set requirements.
Requirements for In-Home Day Care
If you're want to operate a day care business out of your home, check the requirements. In most states, you'll be exempt from licensing if your day care is in your home as long as some of the children are your own or belong to relatives and/or you're only watching a small number of children.
However, just because you aren't required to have a minimum degree, training or certification, it doesn't mean you aren't subject to state regulations. You could be investigated for complaints if you aren't providing a clean, safe environment for the children in your care. If any of the children you're watching receive federal child care financial assistance, you'll also need to meet federal health and safety requirements.
Requirements for Day Care Leadership
The educational bar is raised significantly if you serve in a leadership role at a large day care facility. Typically, day care directors are expected to have at least a bachelor's degree, although you may be able to run a smaller facility with an associate degree. You might also find that you have to put in some time as a child care worker before landing a top position.
If you opt to open your own large child care center, you'll have to meet state requirements for licensing your facility. This will often require training. You may also find that parents will look into your credentials, at which point your certifications and experience could have you winning their business over a competing child care facility.