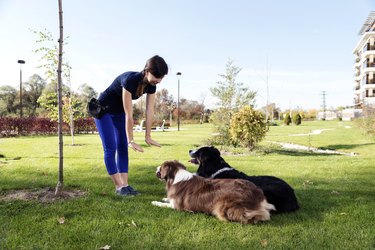 It's overstated but true: Your dog is a member of your family. You wouldn't send your child out into the world without first teaching them some social skills, and it's not a good idea to do so with your pooch, either. Approximately ​4.5 million people​ suffer dog bites each year, according to the Centers for Disease Control and Prevention. It could end up costing you a good bit more than the expense of training if your dog seriously misbehaves.
Professional dog training can detect potential problem behavior before you're even aware of it, according to the American Kennel Club. This is particularly the case with a puppy or an adopted dog. And if your dog already has a behavior problem, such as anxiety over socialization, hiring a professional trainer might be the only way to eradicate it.
Depending on your family size, your dog might not be comfortable with crowds and other animals. Training can introduce social skills that can be particularly important if your dog isn't exposed to the need for them on a daily basis. Maybe letting your dog loose in your backyard isn't an option. Social skills are necessary when you're walking them or taking them to a dog park instead, and to ensure that they show good behavior with visitors.
Your dog's own wellbeing may be at stake, too. You'll want them to be on good behavior at the vet so they can receive treatment if necessary.
Professional dog training is available in several shapes and forms to fit your needs and schedule. Training is available online, one-on-one in the comfort of your home or at a facility or as group classes. You can even use a combination of one or more of these options.
Group classes offer an excellent way to socialize your dog. As for dog training videos and dog training shows you might find online, you can pick up a few basic pointers here for mild problems such as jumping on the furniture or staying inside when the door is open.
In-home, personal training typically costs more. It can run about ​$80 a class​, or even more. But group classes tend to be surprisingly affordable. The Kentucky Humane Society offers ​six-week courses​ for ​$90​ for dogs that haven't already begun exhibiting negative behaviors. Petco and PetSmart both charge in excess of ​$100​ for six-week courses, although both periodically offer cost-saving special promotions.
There may be other "hidden" costs as well. Group training almost always requires that your dog be fully vaccinated, so a trip to the vet may be necessary before you can even begin training.
Pup disobedience can end up costing you a good deal more than professional training. You could potentially be sued if Fido decides to chomp down on the mailman and the breed of your dog can affect your home insurance premiums as well. Fairly or unfairly, some breeds have a reputation for being dangerous. You could be denied coverage if you've taken no steps to mitigate behavior problems. Liberty Mutual will consider whether they've been trained, among other things.
Then there's your property. You could find yourself footing the bill for repairs, replacement of furniture and professional cleaning if your dog has a destructive side that hasn't been addressed.
The Right Trainer for Your Needs
The American Kennel Club cautions that dog training is not an industry that's regulated by state, local or federal law. All trainers are not the Dog Whisperer.
You might check with the Certification Council of Professional Dog Trainers. It's not a government-run organization, but you can find out if a trainer you're considering is certified.
And be sure to identify what type of training you're getting for your money. One trainer might offer only basic crate training or training to heel, but not work on problem behaviors such as chewing things, jumping or barking to go out.