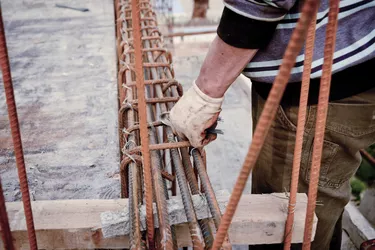 Rebar inspectors are responsible for making sure rebars, or reinforced steel bars, are properly installed in construction projects. They are required to check the spacing between the rebar and the earth, as well as inspect the quality of the metal, ensuring it is firmly reinforced. Before someone can become a certified rebar inspector, he must receive a rebar inspector certification.
Step 1
Take a rebar class through a certification program. These programs are offered through many private institutions; Evaluation and Certification Services is one of the leading providers. The class you choose must be certified by the American Council on Education, and you will be required to complete 80 hours of training. The cost of the program is roughly $500.
Step 2
Make a list of the required topics that will be covered during the rebar certification. These include the inspection of materials, bars, reinforced materials and coatings. You must make sure you are familiar with the fundamentals of the inspection processes before proceeding. You can learn more about the topics you need to be familiar with by using the standards of the United States Department of Agriculture's division of Rural Development as guidelines.
Step 3
Take the certification examinations. You will be required to demonstrate on-the-job understanding, as well as take a written examination through the certification program from which you took the class. The program is new, and the standards are not uniform. Each examination may have its own requirements as to what constitutes passing.
Step 4
Locate a job opening for a rebar inspector. Many construction agencies need rebar inspectors. They may be looking to promote existing employees, so it is better to apply for a position within your current employer.
Step 5
Update your rebar certification, as it is only valid for five years. You will have to show that you have been taking additional courses and investing in your education.