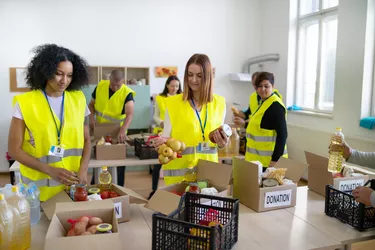 The past couple of years have been tough on U.S. households. As if record job losses related to the pandemic weren't enough, consumers are seeing historic inflation rates, with prices increasing ​7.9 percent​ since a year ago. For the many consumers considering a food bank visit, there are a few tips that can help things go smoothly.
Food insecurity is a worldwide problem that existed long before the pandemic. To help those in need, nonprofit organizations known as food banks are set up in communities, often operating as part of an organization called Feeding America.
A food bank is a warehouse that stores food items donated as part of food drives. To distribute these items, nonprofits set up their own variations of a food pantry, which provides a local place for those in need to get food assistance. To make food distribution easier, some local nonprofits will even send mobile food pantries around to help those who don't have access to transportation.
The coronavirus pandemic put a strain on food banks, with many nonprofits seeing a drop in food donations and volunteering due to safety concerns. Many food pantries also shifted the way consumers get food. Your local food bank might still have COVID safety precautions in place that impact the way you pick up food.
The first step, if you're interested in participating in a local food program, is to check the options in your local community. Chances are, you can find a local food pantry that won't require much travel time.
Food banks are designed to help families that don't have enough food, but there are other items available. Your food options will typically be limited to items that are donated by your local community and will primarily be non-perishable foods like boxed foods, canned goods and peanut butter. You might also find diapers and toiletries at food banks.
What you won't find at food banks are perishable foods like fresh produce and fresh fruits.
Food banks can help you get through tough times, providing everything from canned foods to toiletries.
Preparing to Visit Food Banks
Before you visit a food bank, you'll first need to determine your eligibility. Requirements vary from one location to another, so you'll need to research. Second Harvest of North Central Ohio helps those living at ​200 percent​ of the federal poverty level or less.
Once you've determined eligibility, first-time food bank visitors should look up hours. There may also be social distancing guidelines in place that require you to make an appointment to get help. Shoot for the earliest time you can get for the best chance at having a good selection of food items.
Other Food Assistance Programs
There are some other options for families who need a little help. One is something that was once called food stamps but now goes under the name SNAP. The USDA's SNAP benefits will help you purchase the items you need at the grocery store. If you have young children, the WIC program can also help.
Soup kitchens are another option that can help feed your family if you need it. Also, check with community service organizations that might not fall under the "food bank" header. You may find nonprofits that have fundraisers to feed hungry people that can help.
Food banks collect pounds of food each week to help those who need it. These programs can help you get through tough times, providing everything from canned foods to toiletries. Look into local programs to see what options are available. There may even be a mobile food pantry that comes to your own community.