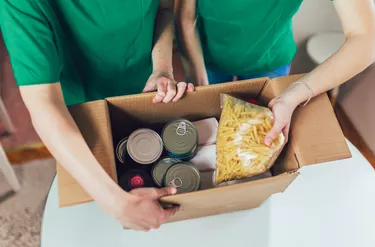 During times of economic stress, making ends meet and putting food on the table can become serious challenges to many people. When individuals or entire families suffer from economic burdens because of job loss, illness or poverty, food insecurity can be a consequence. And during the recent COVID-19 pandemic, many people who've never struggled with economic loss are experiencing food insecurity for the first time. Help for many people comes from food banks, many of which have relaxed their qualifying requirements (or impose no qualifying requirements) during the pandemic.
Food Programs, Banks and Pantries
Sometimes, families who barely make ends meet by paying for housing, utilities, transportation and other living expenses come up short of money to buy food. Many of these people find nutrition assistance through federal, state and local food programs. But it may take several weeks to begin receiving assistance after a qualifying process, and that's often too long to help with immediate food needs.
Food banks and food pantries, on the other hand, typically offer immediate (or fast-tracked) help for those who do not otherwise qualify for government programs, or who do not have the time to wait before receiving the food they need.
A food bank collects items from grocery stores, food retailers, restaurants, food drives and donations. These items are "banked" in a central repository. Then it doles out food items to agencies, including food pantries. Feeding America is an example of a national network of 200 food banks and 60,000 food pantries.
A food pantry typically is a member of a food bank, which receives the food from a food bank and distributes it to people in need. Food pantries may be located in different places, such as schools or community centers. Some communities have mobile food pantries that deliver food, for example, to senior citizens.
Many food banks and food pantries are locally run; others are managed at the state or federal level. Qualifying to receive nutrition assistance from food banks depends on the type of food bank. Each food bank has different qualifying requirements, but many food banks have no requirements. Just show up during their days and times of operation and they'll help if they're able.
Religious Organization Food Banks
Often, one of the quickest, no-questions-asked sources of food assistance is a local religious organization, which may operate a single food pantry, or it may be a member of a food bank. Churches, synagogues such as the Mitzvah Food Pantry in Elkins Park, Pennsylvania, and other places of worship often offer free food assistance to anyone in the community, regardless of religious beliefs.
Some religious organizations have food available on certain days of the week at their place of worship, staffed by their congregants; others, such as the Mitzvah Food Pantry also provide food by appointment in addition to regular hours of operation; and a few even have a non-staffed pantry accessible during certain hours to anyone who needs food. Contact your local religious organization's food pantry to find out if it has any qualifying requirements; many do not.
Salvation Army Food Pantry
Although the Salvation Army is also a faith-based charitable organization, it does not operate under any specific denomination. The Salvation Army Food Pantry provides quarterly food assistance to qualifying clients. To qualify, clients must provide a current state-issued ID, a current electric bill to prove residence and the Social Security numbers of all members of the household. Clients can only receive food once every three months, and attendance in a budgeting class may also be required.
City and Regional Food Banks
Some food banks are locally organized instead of being part of a national network. For example, the Food Bank for New York City serves all five New York City boroughs with food pantries. However, like other food pantries across the country, the Food Bank for New York City has had to shift gears because of COVID-19 and distribute food as pantry bags and "grab and go" meals.
Another example of a local food bank is the Big Sky Community Food Bank in Montana. This food bank serves Gallatin Valley residents and offers pre-packed food box drive-up service or home delivery service to COVID-19 quarantined customers, with no qualifying required.
Finding a Food Bank
Food insecurity can be a daunting experience, particularly during a national crisis such as the COVID-19 pandemic. And finding a food pantry may present its own challenge of not knowing where to begin the search.
Start with the religious organizations in the community where you live. A few phone calls to local churches, synagogues and other places of worship can help steer you in the right direction. Even if a religious organization does not have a food pantry, it likely knows of one in your community.
Perform an online search for food banks or food pantries in your community. Here are two national websites on which you can perform a search for the closest food pantries, based on your zip code:
FeedingAmerica.org. Click on "Find a Food Bank" at the top menu, which will take you to a zip-code search page. Don't be discouraged if the search results for your zip code turn up a food bank that's an hour or two away from you, because this organization notes that their food banks serve large areas but they can help find one of their partners close to where you live such as a food pantry. Just click "Find Food" underneath the search result, and secondary search results will list food pantries near you.
AmpleHarvest.org. This national organization links farmers, gardeners and community gardens with local food pantries to provide fresh produce for those who need food. Click on "Find Food" at the top menu. When the page loads, click on your state; when that page loads, enter your zip code and click the "Food" icon beneath the zip code field.