Community food banks typically report greater demand for emergency assistance during times of high unemployment and economic downturn. While some food banks will aid anyone in need, some have their own eligibility guidelines. Many use income guidelines set by U.S. Department of Agriculture, while others have residency restrictions. Some require a referral from a community human services agency.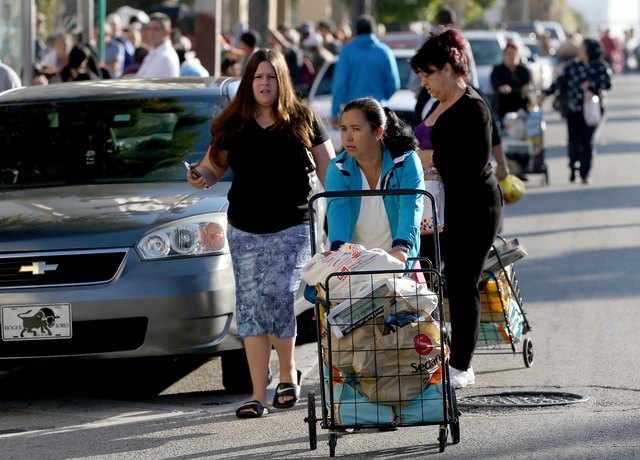 credit: Joe Raedle/Getty Images News/Getty Images
Enrollment in Qualifying Programs
In most areas, participation in a government-funded assistance program automatically qualifies you to register at a local food bank site. Qualifying programs include Temporary Assistance to Needy Families, Supplemental Nutrition Assistance Program, Medicaid and Supplemental Security Income. In some areas, you qualify if you are enrolled in the Low Income Energy Assistance Program. Generally, you must show proof of enrollment in at least one of these programs, or proof of income that may include earnings from employment, unemployment compensation or social security benefits.
Basic Eligibility Criteria
Although eligibility criteria can differ, most local food banks will ask for a photo I.D., such as a driver's license, and proof that you live in the area they serve. For proof of residency, you can show a utility bill or rent receipt. In some areas, food banks will ask for the birth certificate, immunization record or insurance card for each child living in the household the first time you receive food.
No Guarantees
Because of high demand, most food banks want its patrons to set up appointments. Most want to give families enough food per person to last several days. How often they do it depends on that food bank's current resources. Not all food banks can offer food commodities to needy households every week. Some have only enough food available to distribute free bags of groceries on a bi-weekly or monthly basis.
Emergency Needs
The Emergency Food Assistance Program is a federally-funded food program that can also help out low-income Americans. The income caps differ depending on the state. For example, in 2014, a family of four in Morgantown, Pennsylvania, with a monthly income limit of $2,881, qualified for emergency groceries. In Larimer County, Colorado, the monthly income limit for the same number of people was $3,631.