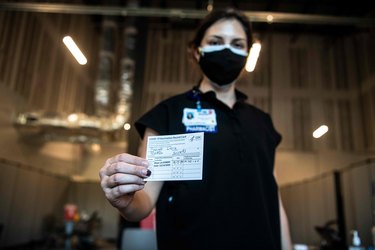 After a year of pandemic, economic crisis, political brouhaha, and plummeting mental health, it's no wonder we're looking for reasons to celebrate. As vaccines become more and more widely available, the must-post selfie of 2021 is posing with your vaccine card — if you're not showing off the shot itself. But privacy advocates have some bad news for these good and well-intentioned instincts, which could be putting your personal data in danger.
Samantha Murphy Kelly, writing for CNN, admits that eternal warnings about data leaks and sharing information online can seem overblown or even numbing these days. But with medical data like what's on a vaccine card, it's far easier for an unscrupulous hacker to target individuals. "To gain access to sensitive medical records over the phone, having the medical record number, last name, and date of birth — all of which are listed on the vaccination card — are all I need to authenticate as that individual and gain access to sensitive details," one expert told Kelly.
Even worse, it's actually more likely that someone you know would use your data, rather than a total stranger. "Individuals should be as wary of posting vaccine records information as they would be about posting their credit card numbers online," said cybersecurity expert Michela Menting.
Still want to spread joy and awareness by sharing that post-jab selfie? "Some vaccine sites are handing out stickers, much like the ones voters receive at Election Day polls," Kelly writes. "Snapping a photo while wearing the sticker gets the same message across without the security risk."