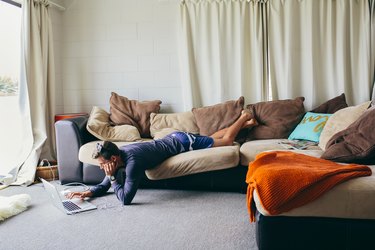 Everyone needs a place to live. When you're a cash-strapped young person, sometimes your life starts to feel like any port in a storm. It's not news that unscrupulous types will take advantage of that — but the scope at which they're trying is pretty humbling.
According to MarketWatch reporting, nearly 1 in 10 renters under the age of 30 have lost money in a rental scam. These often include scammers who pose as leasing agents for properties that aren't on offer. Multiple renters will put down a deposit on a unit or pay a credit check fee, only to find they can't get in touch with their contact anymore. The median amount of lost funds is around $400, but for about a third of the 5.2 million people who lose money to these scammers, the amount can be more than $1,000.
More than 40 percent of renters say they've encountered suspicious listings during a search. One the surest signs of a scam, per the Federal Trade Commission, is a landlord or broker who asks to be wired money. Never pay someone before you meet or sign a lease. If your contact says they're out of the country and can't make a face-to-face meeting, drop them like a hot potato. If you're still suspicious, look for duplicate listings of the property or check city records for more about the unit. You need a place to live, and nobody has time for grifters at a time like that.