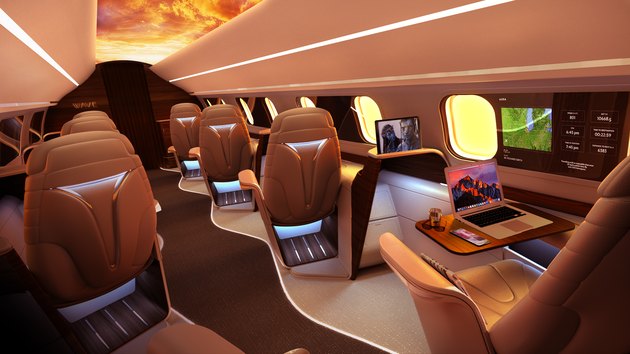 Some startups actually do democratize what was previously available only to the super-rich. If you've ever dreamed of jetting around in a private plane but balked at the price tag, Aura is the answer you've been waiting for. While the airline hasn't launched just yet, you've got a chance now to get in on the ground floor — think fixed-price plane tickets, sci-fi add-ons, and an outrageous amount of legroom.
When it begins service in 2019, Aura plans to offer one-way tickets on 29-seat luxury jets beginning at $280 for "Keyholder" members, about half what non-members would pay. You can choose from two tiers of service, the main cabin of First seats and the specially engineered Wave seats, which can lie flat. Most flights these days cram passengers into about 30 inches of front-to-back space, called seat pitch; Aura's seat pitch is a massive 44 inches for every available seat.
There are other perks too. If you hate long waits and pre-travel, Aura will let you arrive just 20 minutes before takeoff. You can enjoy other amenities too, such as an in-service chef, wi-fi, and both augmented and virtual reality programming. If this all sounds like something you'd use a lot, you can sign up now to be a Founding Keyholder — an early adopter, who can get cheap tickets for a subscription price of $100 per month rather than $250. It's still more than flying budget airlines, but if the experience matters to you as much as the destination, keep Aura on your radar.