Since 2009, Bitcoin and other cryptocurrency technologies have been forging a path in today's digital age. This path is still in its relative infancy, and – as with any new technology – requires a learning curve. Part of Bitcoin's learning curve is the ongoing pursuit of a safer way to handle its virtual transactions and a constant improvement in the software that drives it. Bitcoin hard forks are the result of permanent software upgrades that diverge from the current protocol.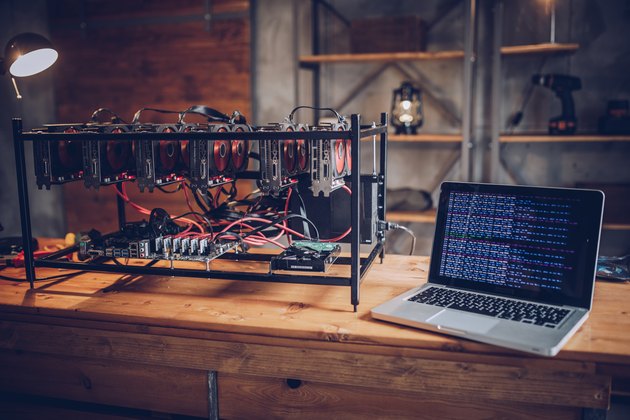 What Is Bitcoin?
Bitcoin is a digital currency, also called cryptocurrency, which is intangible and decentralized. It relies on a cryptographic technology that allows its users access through encoded keys. Although you can't see bitcoins or hold them in your hand, they are nonetheless a legitimate type of currency. Bitcoin protocol is not regulated by a central agency, such as a bank; instead, it is self-regulated by its users, creating a peer-to-peer system of checks and balances. Transactions are recorded in blocks on a public, digital ledger. In turn, the blocks are joined as a database in a blockchain. When changes are made to Bitcoin's software protocol, such as code updates, these blockchains can split, or fork.
Bitcoin Hard Fork Explained
Software protocol changes and upgrades are common for products even outside the Bitcoin world. You'll experience this when the software program that runs your version of Windows upgrades to a new version or when your word-processing software updates to include changes. When the Bitcoin protocol changes drastically, the old rules don't work any more, which requires a software upgrade. As a result, the blockchain forks, with the new Bitcoin version forking in a different direction than the old version. A Bitcoin hard fork is not backward-compatible; that is to say, the changes require users to upgrade to the new version so they can continue moving forward – the old rules become invalid. Bitcoin hard forks can be a result of adding a new feature, correcting a security risk or changing one of its fundamental rules, such as block size.
Bitcoin Hard Fork History
When Bitcoin debuted as the first cryptocurrency in 2009, the first block on its blockchain was created. Known as the Genesis Block, this first blockchain was followed by a series of software changes that created hard forks.
Bitcoin XT is a notable early hard fork, which was a result of a 2014 software upgrade. While the Genesis Block size was 1 megabyte, Bitcoin XT proposed an increase to 8 megabytes. Bitcoin XT met with initial success and garnered early favor with many Bitcoin users before this project was essentially abandoned.
Two years later, in 2016, Bitcoin Classic reeled in block size to propose an increase of only 2 total megabytes over the Genesis Block's 1 megabyte. Bitcoin Classic's success almost paralleled the Bitcoin XT model – it was initially met with favorable reviews and moderate success, but it eventually waned in popularity.
Bitcoin Unlimited's introduction in 2016 allowed users to determine the size of their blocks – up to 16 megabytes. This Bitcoin fork protocol has not been widely accepted.
In 2017, Bitcoin Cash was the result of a hard fork that split from the main blockchain. This fork's protocol allows 8-megabyte blocks. To date, Bitcoin Cash has seen the most success of any Bitcoin hard forks.
A few months after Bitcoin Cash forked in 2017, Bitcoin Gold sought to restore easier functionality for more users. Bitcoin Gold's creators worked to develop basic graphics processing units (GPUs) that would be compatible with more equipment and hardware than the trend toward having to use ultra-specialized equipment, which was becoming severely limiting to Bitcoin users.
Bitcoin Hard Fork – How to Claim
To claim Bitcoin hard fork coins, you'll need to set up a digital wallet, or crypto wallet, that is compatible with the forked coin platform. Digital wallets don't hold actual bitcoins, but they allow users access to their cryptocurrency by holding the digital credentials that users unlock with their unique digital key. If your digital wallet's credentials are not compatible with a forked coin's protocol, you won't be able to use your outdated key to unlock access to your bitcoins. An online search reveals numerous bitcoin sites where you can establish your digital wallet, such as Bitcoin, Bitstamp, Bitfinex and Exodus. If you already have a digital wallet with an incompatible key for a hard forked bitcoin, make sure your new crypto wallet allows you to import your old key to its new fork-compatible platform.
Other Considerations
A Bitcoin hard fork differs from a soft fork. The common ground between the two is that each creates a split from the existing blockchain, and each leaves an old version intact as a new version is created. The difference is that a hard fork requires a universal software update that renders all the old rules obsolete, requiring users to follow the new blockchain immediately. A soft fork's new rules do not cancel all the old rules immediately – it is backward-compatible. This means that users can continue following the old blockchain, which remains valid until users update to the new version.