Whether you want to skip grocery shopping to save money or time, amazing recipes can usually be created using with what's already in your pantry. This recipe for peanut butter Thai chicken uses ingredients you probably already have. And if you don't already have peanut butter and soy sauce kicking around, go out and get some ASAP. These two ingredients are versatile and delicious and can be used in a variety of recipes.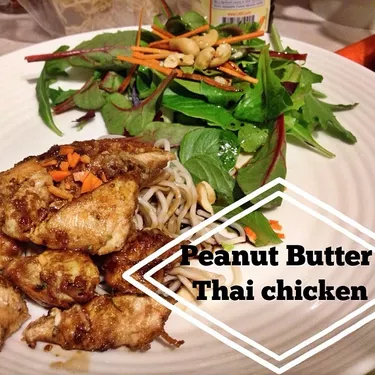 The following recipe serves two and takes about 30 minutes to make. If you want to get really fancy, add the chicken to a lettuce wrap for a meal that's delicious, quick, healthy, and most importantly: cheap.
Things You'll Need
2 chicken breasts

1 tsp vegetable oil

3 tbsp of peanut butter

1 lime, juiced

a few glugs of soy sauce

1 clove of garlic, chopped

1 tsp red pepper flakes OR a seeded chilli chopped

1 tbsp fresh: cilantro OR parsley OR basil (or all 3, get wild)

a few cashews for some crunch (optional)

1/2 tsp grated ginger (optional)
Combine peanut butter, lime, soy sauce, garlic, red pepper flakes, cilantro, cashews, and ginger (if using) in a food processor or a bowl. The sauce should have a thick consistency that's a bit more fluid than peanut butter since you want the sauce to cling to the chicken.
Put a couple of tablespoons of the mixture in a container and set aside. This will be used later as a dip.
Cut chicken breast into slices and mix with remaining sauce. Make sure sauce evenly coats the chicken.
Heat up frying pan with a thin layer of vegetable oil. Add chicken and cook through (approx. 10-12 minutes).
Use peanut butter sauce that was put aside as dip.
Serve with noodles or salad. Enjoy!
Here's a tip: make sure you make enough for leftovers for lunch the next day. Trust me, it's that good.