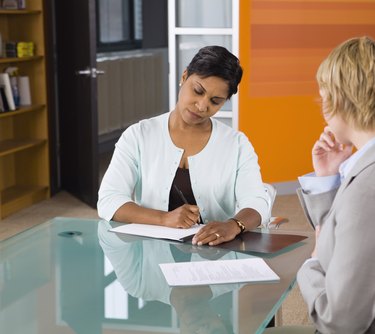 Participating in research projects as an undergraduate student, graduate or professional can give your resume a boost of credibility and a competitive edge over those of other job seekers. Listing research on a resume can prove that you are serious about and experienced in your field, and it can be a deciding factor in landing a face-to-face interview. Knowing how to list research on a resume is key to communicating your experience; research has a proper place in a resume and must be balanced with work experience, accomplishments and professional skills.
Step 1
List research projects separately from your work experience. List research before work experience, closer to the top of the page, if you are seeking another research position. List research beneath work experience if the position you are seeking is not directly research-related. Avoid overshadowing work experience with research on the resume for jobs that require hands-on experience, as the focus on research may cause employers to assume most or all of your experience has been in a lab.
Step 2
Begin each listing with the institution for which you performed the research. If the project was a university study, list the full name of the institution, including the branch or college within the university that was responsible for the project. Do the same for research conducted at hospitals or other medical institutions, listing both the institution's name and the name of the branch or department in charge of the project.
Step 3
Follow the institution's name with the name of your supervisor or professor or the director of the project. Ask each leader for a personal letter of recommendation and request permission to list a phone number for professional references. Attach the letters of recommendation and list the phone numbers separately from the resume.
Step 4
Describe the nature of the research you performed in each project in two or three lines. Avoid adding too much detail to the description; use just enough information to interest resume readers in speaking with you further about each project. For example, if you were involved in a study comparing interest-rate changes with economic inflation among different nations, simply list something to that effect rather than going into detail about the countries and time periods analyzed, research techniques used and hypotheses tested.