The girls' night out. We know them. We love them. We need them. Long talks stretched out over appetizers and cocktails in that new restaurant. Chit chat while getting a pedicure. Bonding over a concert experience. Sharing stories during eggs benedict and mimosas at brunch. There are a number of things needed to build a lasting friendship: time, understanding, shared interests, communication. However, money doesn't need to be one of them.
For those looking to tighten their purse strings, the thought of reducing your chance to bond with your friends can be worrisome and, quite frankly, downright depressing. However, don't let your frugalness ostracize you from your tribe (or your sanity!). In fact, by taking costly entertainment factors out of the equation, the bonds of friendship can actually strengthen. Here are some ways you can both build up your nest egg and your friendships at the same time.
Stay where you are: Organizing fun where you live
"People are almost always better than their neighbors think they are." ― George Eliot, Middlemarch
Sometimes your tribe is right under your nose. While the old adage "good fences make good neighbors" may be true, good neighbors also make good neighbors. And the only way to find these fantastic folks is to put yourself out there. One of the best, and least expensive, ways to do this is with a block party. If you don't have an HOA or apartment association that does this, see if you can get permission to form your own. Inform your neighbors, cordon off a street or reserve a courtyard, and make it BYOB and BYOC (chair). It's a great opportunity to get to know the next door hiking aficionado, the corn hole enthusiast down the street, or the gardener up the road who actually knows how to keep her houseplants alive.
Bond over books or games
"That's the thing about books. They let you travel without moving your feet." ― Jhumpa Lahiri
Everyone loves a good book; heck, even a bad book can be fun to talk about. Gather your group to form a book club. Many libraries now offer "book club boxes" that you can borrow as a set. Alternate hosting duties and have everyone recommend and vote on selections. And don't forget that half the fun of a book club is the conversations that aren't about the book.
Of course, the gathering doesn't have to center around the literary. The importance of the event is the gathering itself. Swap out a book for a film screening, a board game, or just to celebrate the fact that it's Friday.
DIY gourmet
"One cannot think well, love well, sleep well, if one has not dined well." ― Virginia Woolf, "A Room of One's Own"
Nothing pulls people together like food. Instead of eating out and dropping all your cash on restaurant bills, offer to host your get-togethers at home. Form a supper club and take turns hosting dinner or make the event pot-luck style and have everyone chip in. Either way, the communal atmosphere will lend itself to forming deep connections more than a loud and busy restaurant…and it'll be much cheaper to boot.
If you feel like making the gathering more special, you can always up the ante with a theme. Collective DIY wine, beer, and whiskey pairings let you try something new while not annihilating your budget. And don't think you have to limit yourself to fancy cheeses. You can find pairings for everything from chips to candy to Girl Scout cookies.
Do good: Learn more about your friends, your community, and yourself
"I've learned that you shouldn't go through life with a catcher's mitt on both hands; you need to be able to throw some things back." ― Maya Angelou
Meaningful experiences can lead to meaningful relationships. Coming together to do something authentically good for the world can forge powerful bonds. So the next time you can't think of anything more inspirational than seeing a movie or are about to spend some serious cash on a spa day, think about opportunities where you can both give and receive. Grab your BFF (or soon-to-be bestie) and go for a walk with a couple of dogs from the local animal shelter. Or grab some work gloves and sign up at your nearest Habitat for Humanity. Seek out the needs in your community, be they a women's shelter, a childcare center, or ESL classes, and you'll become part of your community.
Switch it up: Sharing is caring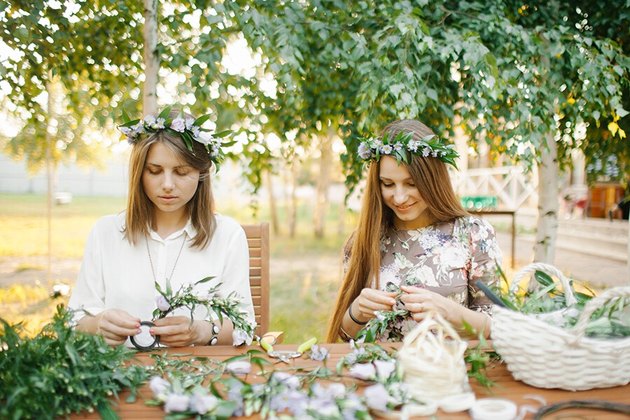 "Happiness quite unshared can scarcely be called happiness; it has no taste." ― Charlotte Brontë
From a babysitting exchange (free childcare!) to a clothes swap (wardrobe update!), exchanging goods, talents, and services keeps costs down and socializing up. Think about your hobbies, skills, or passions: How could you share them? Are you a fitness guru? Create a boot camp or workout set and then head to the park with a couple buddies. Is there a knitter in your group? Have her give everyone a class the next time you get together. And if you can't readily identify a shareable skill…there's truly no better time to learn one. With YouTube tutorials on everything from paper folding to pasta making to laying tile, teaching yourself to teach others is the best way to master a newfound talent and form friendships at the same time.