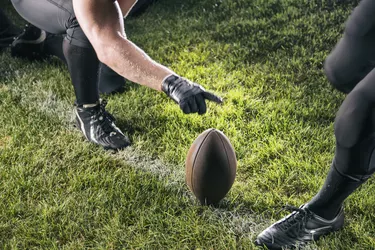 Kicker salaries aren't typically the highest in the National Football League. In fact, overall, they tend to make far less than other players, although there are placekickers whose pay can top ​$5 million​ a year.
According to Spotrac's ranking of 45 NFL kicker salaries in 2022, the highest-paid kicker earned an annual average salary of ​$5.5 million​, while the lowest-paid kicker earned ​$660,000​. These numbers are based on a review of these players' multi-year contracts for their base salary and might not include performance or signing bonuses, such as when a team makes it to or wins playoff games or the Super Bowl, or gets invited to the Pro Bowl.
An NFL kicker shows up several times during the course of a game, aiming for field goals when it's possible to earn extra points and kicking off to the receiving team after each touchdown and at the start of each half. Due to only playing a few times each game, an NFL field goal kicker salary is typically lower than other team members, but that doesn't mean skill is any less important.
There are multiple styles of kicking that a talented kicker will use based on where they're positioned on the field. A second-string NFL kicker will be used even less often, typically standing on the sidelines unless there's an emergency.
As important as it is to have leg strength and talent to play on NFL teams like the Packers, Panthers, Vikings, Raiders, Bengals, Falcons, Patriots or Buccaneers, though, there's no denying the intense stress that comes with the position. A high field goal kicker salary is well-earned, considering the fact that kickers head out onto the field during crucial parts of the game, with the entire crowd typically holding its collective breath to see the outcome of each kick.
NFL Kicker Education Requirements
Although physical fitness and leg strength are essential, a specific type of education isn't required in order to be chosen to earn an NFL field goal kicker salary. NFL players are usually recruited from colleges, so it's important for high school players to play well enough for a college team to qualify for the pros.
This probably will mean capturing the attention of recruiters in high school, who then offer you a scholarship to the college you want. The more public-speaking skills you have, the more likely you might get a post-retirement job as a TV analyst for a network like ESPN.
A backup NFL kicker salary may be lower than a starting kicker's pay package, but a good backup is getting tougher to find and that will influence what a kicker makes on different teams. Some teams have had to rely on other team members to fill in for the kicker, a setup that isn't exactly ideal since kicking is a very specific type of skill. This means a good emergency kicker may be in demand, especially if he is a free agent.
Often, when a team needs an emergency kicker, they will turn toward another lowest-paid-kicker position in the NFL, the punter. According to Spotrac, punters earn anywhere from roughly ​$700,000​ in annual salary to roughly ​$3.675​ million. The salary is also likely to be better than the backup NFL kicker salary, being first-string.
For the most part, kickers are drafted from college, although some are impressive athletes in soccer or other sports. Kickers typically aren't drafted and, if they are, they're chosen in a later round.
To get the best idea of a backup NFL kicker salary, it can help to look at the salaries of NFL practice squad members and NFL rookies. The minimum salary for an NFL practice squad player is ​$9,200​ per week in 2022, or ​$165,000​ for 18 weeks.