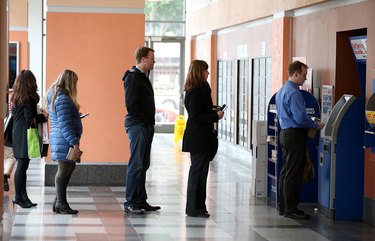 The U.S. Postal Service, or USPS, offers several convenient methods for purchasing postage stamps without going to a post office. This comes in handy if you just want a book of stamps without having to stand in line at the post office behind customers who are buying money orders, shipping packages, paying for post office boxes or picking up certified mail. Often, even the self-serve kiosk in the post office lobby has a line of do-it-yourselfers waiting to weigh mail and buy postage. Purchase postage stamps in the comfort of your home or at nearby locations that conduct limited postal service business.
Telephone and Mail-Order
Call 1-800-STAMP 24, or 1-800-782-6724, to order postage stamps over the phone and use your credit or debit card to make the purchase. Before making the call, you might want to visit The Postal Store on the USPS.com website to see the stamps available, such as Forever stamps in different quantities. The USPS charges a small fee for telephone orders. You also can order postage stamps through the free mail-order service. Ask your mail carrier for a mail-order form, complete the form and mail it to the address provided with payment for your order. Make the money order or check payable to the "United States Postal Service." You will receive your order in the mail in a few days.
Rural Mail Carriers
If you live in a rural areas, you can purchase postage stamps directly from your USPS rural mail carrier. Rural carriers provide many postal services along their routes, including Certified, Registered, Express and Priority Mail services, money orders and package shipping. Ask your rural mail carriers about purchasing stamps or contact your local postmaster. You can also call 1-800-ASK-USPS, or 1-800-275-8777, 24 hours a day for information about rural mail carrier services.
The Postal Store Online
Order and pay for postage stamps online at The Postal Store, which is located on the USPS.com site, for mail delivery to you. You also can reach The Postal Store by clicking the "Quick Links" tab on the USPS.com home page and selecting "Buy Stamps" from the drop-down menu. Create a USPS.com account to purchase stamps and conduct other postal service business. The Postal Store has a complete inventory of postage stamps, including Forever stamps, commemoratives, special theme stamps and the philatelic catalog. Choose from stamps sold in sheets, rolls and booklets to meet your needs.
Approved Postal Providers
Purchase postage stamps at locations where you conduct other types of consumer business. Approved Postal Providers are businesses, usually retail, that enter into agreements with the USPS to offer limited postal services, including the sale of postage stamps. Types of approved providers throughout the U.S. include pharmacies, grocery stores, banks, office supply stores and large retail chains such as Walmart. You also can buy stamps at a local Village Post Office, or VPO, which is another type of Approved Postal Provider located in convenience stores, libraries and local businesses. Visit the "Find Location" page on the USPS.com website to search for Approved Postal Providers near you.
Stamps.com Account
Stamps.com, an online service for purchasing and printing postage stamps, is a licensed USPS vendor. You must open a Stamps.com account to use the service. Stamps.com uses its software and the postage scale it provides to customers who weigh their mail and print postage as needed. Print postage directly on envelopes or labels, or purchase special labels from Stamps.com. The company does not charge additional mailing fees or taxes when you purchase postage. However, you will pay a monthly fee, $15.99 as of April 2015, to use the service, which you can cancel at any time.