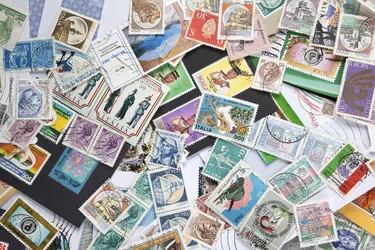 Certain ATMs allow you to buy postage stamps. This can be a convenient way to buy stamps without stopping by a post office or brick and mortar store. Not all banks sell stamps, and some may impose fees for buying them through an ATM. You can also use your ATM or debit card to buy stamps at many stores.
Finding ATMs That Carry Stamps
Some, but by no means all, ATMs allow you to buy postage stamps using your ATM or debit card. The money will be withdrawn from your bank account and the machine will give you stamps in addition to or instead of cash.
Check to see if banks that you do business with sell stamps through their ATMs. For instance, contact Wells Fargo to see where you can find a Wells Fargo ATM with stamps. Many banks don't offer stamps at all ATMs, and some banks have discontinued the service.
Some banks have online banking databases that list their branch and ATM locations by capability, such as whether the ATM accepts deposits or vends postage stamps. You can use such a tool to find a branch or ATM near you that sells stamps. If you can't find such a database online, give the bank a call or stop by a branch to inquire about where you may be able to buy stamps.
Buying Stamps From an ATM
When you locate an ATM that sells stamps, insert your card and securely enter your personal identification number. Use the ATM menu to select an option to buy stamps. Make sure to take note of any fees and decide whether buying stamps through the ATM is a good deal. Also confirm that the postage stamps available are ones that meet your needs, whether you're sending a letter, a postcard or something else.
If you go through with the purchase, be sure to take your receipt and confirm that the correct amount was debited from your account. You may wish to check your online banking account or view your statement in print to make sure the correct amount was charged. Hold on to the receipt for your records.
Also inspect the stamps that you receive to verify that they're the right type of stamp and the right amount as well as for any damage. If you spot any problem with the stamps or the amount that you were charged, contact your bank right away.
Other Ways to Buy Stamps
Visiting an ATM can be convenient if there's one near you that sells stamps, but it's not the only way to buy stamps or mail a letter. United States Postal Service post offices sell stamps, and many offer stamp vending machines so that you don't have to wait in line to see a postal clerk if you simply need to buy stamps. Some post offices keep these machines open even when the main desk is closed, such as overnight or on weekends and holidays. You can also order stamps online from USPS.
Grocery stores, drug stores, convenience stores and other businesses also often sell stamps. You can get them at the register when you check out, paying with a debit card, credit card, cash or however you normally buy items there. Ask a checkout clerk what stamps are available. Another option is to print stamps on demand through stamps.com. Naturally, you must have a printer available for use in order to do this.
Post offices and some other businesses, such as office supply stores and mailbox outlets, will also let you mail individual items without purchasing a stamp in advance. This can be useful if you only have to occasionally mail letters and don't need a full book of stamps.