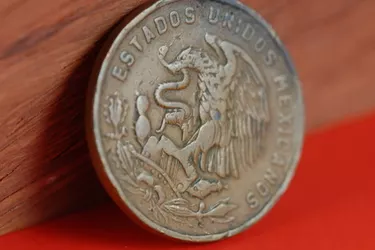 The uncertainty of global currency rates, investments and economic markets makes gold a great choice for saving your money. The World Gold Council asserts that "demand consistently outstrips supply" for gold, thus keeping it constantly competitive and remarkably stable. And while the supply of gold in Gold Eagles, Krugerrands and Maple Leafs has been tightened by their respective governments, it is not difficult to buy gold in Mexico. Mexican gold, in the form of Centenarios, remains a sound purchase.
Step 1
Locate a bank or currency exchange house from which you want to buy. Banks all over Mexico sell Centenarios, which contain 37.5 grams of gold, over the counter. You may want to choose a bank near or inside the airport to increase your security.
Step 2
Call officials at the bank or exchange house to see how many Centenarios they have in stock. If you want more than they have, you may want to order them in advance.
Step 3
Check the daily buy and sell rates for Centenarios. Investment support website Offshore World suggests Banco Nacional de Mexico (also known as Banamex), Mexico's largest bank, is the best place to check this.
Step 4
Ask at the bank or money exchange house for a banker who can sell you Centenarios. Pay in cash, traveler's checks or by wire transfer. Although the price will be quoted in Mexican pesos, you can use American or Canadian dollars, British pounds sterling or euros as well. Banks accept payment by credit card, but the card will charge it as a cash advance.
Step 5
Carry your passport or another form of government-issued ID to present if the banker asks. The banker might not ask you, but it is best to be prepared if she does.
Step 6
Use an inconspicuous bag to transport your gold coins back to the airport. Keep the coins with you on the flight rather than checking them in your baggage.
Step 7
Ask a customs official at the border if you need to declare your Centenarios. Because the face value is low (50 pesos), it may not be necessary if you stay under a certain monetary amount. It is legal to carry them, however, so asking a border guard is in no way risky.
Tip
If you are paying by credit card, call the company in advance to let them know you will be requesting a large cash advance in Mexico. Otherwise, they may block the transaction for fear of fraud.
Warning
Take necessary precautions and use common sense when buying gold in Mexico. Daytime transactions in well-lit areas, close to your home or the airport, are always the safest bet.
Gold coins have been confiscated by border officials at the U.S.-Mexican border in the past for political reasons. Keep up-to-date with border happenings on the Q Wealth Report website.
Things You'll Need
Phone

Cash, traveler's checks or credit card

Passport

Bag