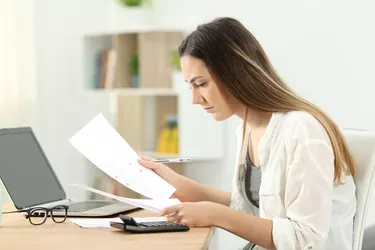 Unlike when paying with cash, using a check provides a paper trail for tracing the check after it's cashed or deposited. You might trace a personal check you wrote to verify when and where it was cashed and who cashed it. Tracing also comes in handy if you suspect someone stole a check you wrote or were supposed to receive. While you can usually trace checks you wrote through your online banking, other situations can require contacting the financial institution or check issuer.
How to Trace a Cashed Check
To trace a check you wrote from your checking account or other bank account, you can try the following steps:
‌Gather basic check info‌: While you can sort through your online banking data, it helps to know the check number, amount and estimated cashing date.
‌Log in to your online banking‌: Go to your transactions list and search for the check's entry. You can also use the banking portal's search feature to narrow down results. Once you find the check, you'll see when it cleared after the person cashed it.
‌Get the check image‌: As long as your bank or credit union supports online check images, you should see a link on the check's entry. Wells Fargo mentions there can be a slight delay between when the check is cashed and when the image shows up. If you see no check image link, Regions advises you to go online or call the bank and order a paper copy for a fee.
‌Inspect the check image‌: The front of the check image will show the usual information, such as the amount of the check, the date, check number, your contact details, your account number and routing number and your signature. The back of the check, however, will show the payee's endorsement as well as a stamp with information about the financial institution where the payee cashed it, explains 1st Community Federal Credit Union.
‌Contact your bank if necessary‌: If you suspect that you're a victim of a scam or that someone forged a signature to cash the check, the Consumer Financial Protection Bureau (CFPB) says to let your financial institution know immediately. You might also need to contact law enforcement for suspected fraud.
If the check you wrote was a money order or some other check not from your bank account, contact the place where you got it to ask about tracing procedures. If someone wrote you a check that you suspect is lost or stolen, contact the check issuer directly. For example, the IRS provides instructions on requesting a tax refund trace for a lost or stolen paper check. The IRS would then work to find out what happened and issue a replacement check if needed.
Common Questions About Tracing Checks
Here are answers to some common check questions.
How Do I Find Out Where a Check Was Cashed?
You can look at the back of a digital or physical check image to see the stamp of the check-cashing location, or you can call or visit a bank branch for help. If you're not dealing with a check written from your bank account, you should reach out to the issuer directly if you suspect problems.
Can I Find Out When a Check Was Cashed or Deposited?
As long as you wrote the check from your bank account, you should see the check's entry – along with the date – in your online banking once the transaction clears. TD Bank mentions the date will also appear on your bank statements. In addition, your bank can provide the date.
Do Banks Keep Records of Cashed Checks?
According to the CFPB, banks usually keep either the original check or a copy for ‌seven years‌. These are called cancelled checks since they've completed the clearing process, and it may cost money to request physical copies for your records.
Can I Cash a Check Without Being Traced?
Checks will usually always be traceable since the involved financial institutions will have records of the transaction and checks have identifying information. In addition, Huntington notes the common requirement of showing a photo ID as a security measure when cashing a check.
If My Check Was Stolen, Can I Find Out Who Cashed It?
If you're the check writer, looking at the back of the check image would show the payee's endorsement, though there's a chance they may have forged a signature. Therefore, you'll usually want to let your bank or the check issuer know about the theft so they can investigate the situation.
What About Tracing Cashier's Checks, Money Orders or Bank Checks?
To trace bank checks like cashier's checks, you should find any receipt you received, contact the issuing bank and explain the situation. If you need to trace a money order, you'll usually need to have the money order's receipt, fill out an inquiry form and possibly pay a fee. For example, Western Union will provide a copy of the cashed money order if you pay ‌$30‌ and mail in a form, but it won't refund the amount to you.