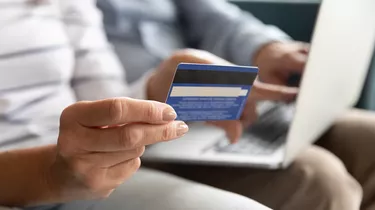 Few things are as frustrating or embarrassing as having a credit or debit card declined during an in-person transaction. Debit cards can also be rejected for online transactions, at ATMs and when you try to make purchases at other machines. If you find your debit card locked for suspicious activity, an overdraft or another reason, you can take several steps to try and find out the problem.
If you don't have enough money in your account, your debit card transaction will be declined, but that's not a block. A block is a temporary freeze of your card based on the fact that the bank or credit union believes there is suspicious activity going on with your account, explains the U.S. Federal Trade Commission.
For example, if you haven't used your card in months and suddenly make multiple purchases, your financial institution might put a security hold on your card. If you try to make a purchase out of the country, that might trigger a block.
If you have overdrawn your account and have not responded to multiple contacts from your bank, or if you've tried to make several declined transactions, your card might be blocked. A very large (dollar amount) transaction can trigger a temporary block.
Accounts are also blocked if you incorrectly enter a PIN number multiple times, and will often unblock after a set time (for example, 30 minutes). You might see a message that your card was blocked, accompanied by a note to try again in X minutes or days, or with instructions that tell you how to unblock it (such as calling a customer service number. In some cases, you might be using an old card – check the expiration date.
If you can't use your debit card to make a transaction, it might also be because you haven't activated it. You can often activate a debit card while making an in-person transaction or at an ATM, performing any transaction, including checking your balance. You can also activate a debit card by calling the activation number on the sticker that comes with your card, which is also included in the letter you receive with your card.
Call the Number on Your Card
One of the first things you should do when you find your debit card is blocked is to call the issuer. You'll need to provide your card number and a combination of the following information: your name, the card PIN, the card security code, the last four digits of your Social Security number, your mailing address or your phone number.
The customer service representative should be able to tell you why your account was frozen and what you need to do to undo the block. You might simply need to deposit more money into your account. You might need to verify recent charges to make sure there has been no fraud, and your account will be instantly unfrozen.
If you can't get hold of customer service (for example, you discover the problem after regular business hours and the company doesn't provide 24/7 customer service), log into your online account. If you haven't set one up, you'll need to do so.
After you set up your account (which takes just a few minutes), you should have instant access to your account. Look for a mail or message center and look for any alerts the bank has tried to send you.
Check your balance to see if you're overdrawn, and check your recent transactions to see if any authorized purchases, payments or withdrawals were made. If so, submit a fraud report via the website and call as soon as the customer service center opens the next day.
If you can't find the link to report fraud, look in the upper, right-hand corner of the website for a search bar (usually near a small icon that looks like a magnifying glass) and type "fraud" or "freeze" to find information on those topics.
Many banks also offer mobile apps you can set up to view your account information on your phone. The steps will be almost identical to registering an online account, once you download the app. Once your app is set up and you are in your account, follow the steps outlined above to see if you can determine what's going on. Bank of America, for example, has a page to help with locking/unlocking debit cards.
If you're very nervous about your bank or savings account security, stop by a local branch and ask to speak with a customer service representative. They can quickly identify what the problem is and offer you help in resolving the problem using steps you might not be able to figure out yourself using an online account or mobile app.