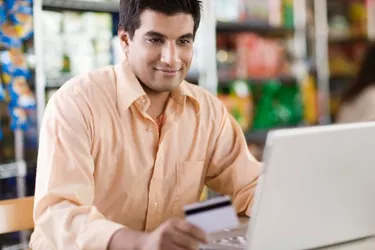 The PayPal debit MasterCard is a quick and effective way to pay with PayPal, even if the merchant doesn't accept PayPal. You can pay for any purchase with your PayPal debit card as long as the merchant accepts MasterCard debit cards, but sometimes you may run into problems when your debit card doesn't swipe correctly or is declined. You can generally resolve any issues by logging onto your PayPal account and checking your balance or resolving any outstanding account problems.
Step 1
Visit Paypal.com and sign in to your PayPal account. Your "Transaction" page will appear.
Step 2
Look at your "PayPal Balance" near the top of the page. If your balance is lower than what you're trying to purchase, PayPal will not permit the payment to go through. Click on "Debit card" under "Account Tools" and click "Add backup now" to link your bank account with your debit card. You can use your PayPal debit card even when your balance is zero if you select to add your bank account as backup; PayPal will take the money from your bank account.
Step 3
Look for any red banners at the top of your page that begin with "Message." Red messages are typically indicative of account issues. You may receive a message if you requested a second debit card, if you used your debit card to buy a large purchase, used your card out of state or if someone hacked into your account; all of which may limit access to your account. Click "Resolve now" and follow the steps to restore your account back to regular standing, which typically includes uploading a copy of your photo ID, two utility bills for proof of address and your Social Security card.
Step 4
Click the "Contact us" link at the bottom of the page. Click "Call us." Write down the provided "Web PIN" number and call the customer service number if the above steps did not help. The two main issues that affect PayPal debit cards are low balance or a limited PayPal account, but your card may have a bad magnetic strip or another issue that PayPal themselves can help you with.
Tip
You can also add money to your PayPal account from your bank account, rather than adding your bank account as a backup.