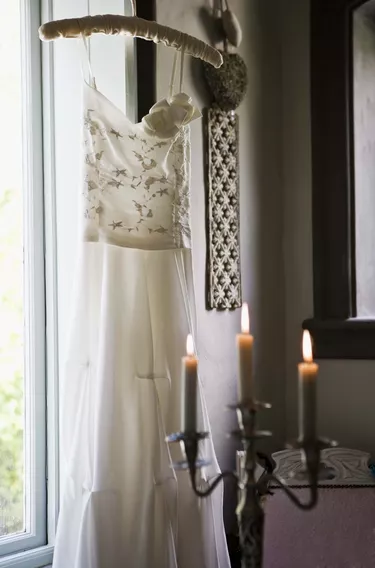 According to Smart Money, the average cost of a wedding is between $21,000 and $24,000, although it can be much higher in some localities. With these rates, it's understandable that most couples want to save money on their weddings. Thanks to television and radio commercials that promise grant money for everything from quitting your job to going back to school, many couples think that there must be grant money out there for weddings, and they're right. Some nonprofit organizations do offer grants for weddings, but the pool of recipients is very small. Even if you are not eligible for a wedding grant, however, there are many opportunities available for you to limit what you spend on your big day.
Grants for Couples with Special Circumstances
Generally, wedding grants are only available for couples undergoing special circumstances. For example, Wish Upon a Wedding provides almost all items and service necessary for the weddings and vow renewals of people who have terminal illnesses or other difficult circumstances, like those with disabilities and other non-terminal illnesses that make daily life difficult. Individuals facing these circumstances can apply for the program using the online application form. After you submit the application, the organization's president will take at least six weeks to review it, and if you are approved, the request will be sent to your local chapter, which must also approve the request and contact you to plan your wedding. If you are approved, you will work with local wedding planners and providers, which partner with the Wish Upon a Wedding organization to donate items and services to your wedding.
Contests
Wedding contests are different from grants, because they often give away only a part of what is needed for a wedding, like a dress or a honeymoon. The good news is that they are also often much easier to find. Companies like bridal outfitters, travel agents and wedding planners often offer contests for shopping sprees and free wedding services or items as promotions. In addition, wedding giveaways are often part of media promotions. For example, during the last season of the "Oprah Winfrey Show", Oprah gave 50 brides a wedding dress, as well as vouchers that could be used for airline tickets and honeymoon accommodations.
Sponsors
Although some would argue that it is tacky, a sponsored wedding is similar to a grant because you do get the wedding items and services for free. However, there is a "cost," and this is that you must allow the company providing the services to advertise through your wedding. For example, you might include the company's logo or a small brochure about the business in with your invitations. According to Cheap Chic, it is difficult to find people to sponsor your wedding, but if you ask a number of providers and make a good sales pitch, you may be able to use this type of wedding funding.
Saving Money
Finding grants, contests and sponsors to fund your wedding is relatively difficult. However, saving money on your wedding is rather simple, though it does require some work. By hiring a consultant or doing research, you can learn the tricks of the trade and what you can cut back on to save big bucks. For example, Smart Money states that you might be able to split decorating costs with the bride getting married in the same venue before you, as long as you have similar taste in decorating. You can also save money by using less expensive fabrics in your dress. While this method may take more time, it is the most sure fire way to limit the amount you spend out of pocket on your wedding.