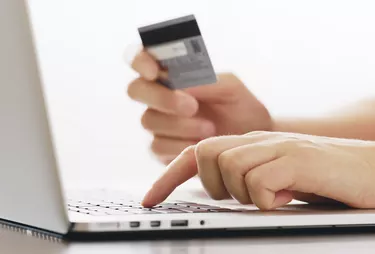 If you expect a tax refund, consider signing up for a Money Network account. This account comes with a debit card that gives cardholders instant access to their tax refund. The cards are issued by MetaBank, which is a member of the FDIC, so you can be sure your money is in safe hands. In order to schedule your tax refund, paycheck or any other recurring payment to your Money Network card, you'll need to know your accounting and routing numbers.
What Is a Routing Number?
A routing number, also known as an ABA (American Bankers Association) number, is a unique nine-digit code that that is assigned to a financial institution, such as a bank or credit union. Enter this routing number on your tax form so that the IRS knows where to send your refund. You'll also need the routing number when setting up direct deposit of your paycheck or government benefits.
Accessing Your Routing Number
There are a few different ways to obtain your Money Network routing number. First, flip over your debit card and locate the customer service number on the back. Dial that number and ask the agent to give you the routing number. You may need to provide your name and account number first.
Another option is to sign in to your Money Network account and click the "Direct Deposit" button. If you'd rather, download the Money Network app from either Google Play or the iTunes Store. After opening the app on your phone or tablet, tap "My Settings" and then "Account & Routing Number." Finally, click "Show Full" to display the account and routing numbers.
Using Your Money Network Card
Once your tax refund has been successfully loaded onto your Money Network card, you can begin using it. The card will work both in stores and online, as long as that institution takes Visa debit cards. You can also access the cash on your Money Network card and check your account balance at any ATM.
In-network ATMs are free; however, out-of-network ATMs will deduct a fee from your account. Keep in mind that each ATM has its own transaction limit, so you may be able to withdraw only a certain amount per day.