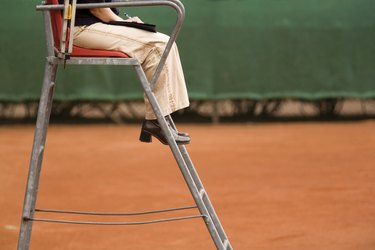 It has come to seem an integral part of tennis; the understated but decisive voice of the umpire calling the score: "15-love, 30 all." Tennis chair umpires ensure that the game is played within the ascribed rules and adjudicates in any disputes. They may work in conjunction with line umpires but have the jurisdiction to overrule their calls. In professional sports, umpires will submit reports to tournament referees at the conclusion of the match. Salary levels for the role are comparable with those for umpire and referees in other sports.
Average Salary
The Bureau of Labor Statistics expects to see employment opportunities across the sporting industry -- for umpires, coaches and athletes alike -- grow by around 23 percent over the 10 years from 2008 to 2018. This exceeds the growth expected of the nation as a whole across all occupations -- put at somewhere between 7 and 13 percent for the same decade. A growing population demanding entertainment, recreation and the improvement of their physical abilities will spur this demand. As such, tennis umpires, like their colleagues, should see wage levels for the occupation remain very competitive.
Salary by Industry
For the purposes of its national survey of employment trends conducted in May 2010, the Bureau of Labor Statistics classified tennis umpires alongside umpires, referees and officials working across other sports. It concluded that the mean annual salary across the occupational grouping was $28,900. Top earners -- those within the highest 10 percent -- received mean wages in excess of $50,350 per annum, while their counterparts within the corresponding bottom bracket earned less than $16,310. At the time of publication, pay analysis website SimplyHired.com put the average yearly wage for a tennis umpire specifically at $30,000.
Salary by Geography
The bureau's statistics revealed that the majority of umpires and referees worked for local government agencies. It gave the mean annual salary within this sector in the sports industry as $27,420. Within spectator sports, the rate was $27,050, while positions within other amusement and recreation industries, such as sports clubs and training facilities, the mean annual wage was listed at $23,640.
Prospects
Location is also a key factor in determining a tennis umpire's salary level. The bureau reported that for umpires and referees in all sports, and across all industry sectors, the state in which wages were highest was Michigan, with a mean of $59,470. Pennsylvania and Vermont were the other most lucrative states, at $43,510 and $42,100, respectively. Missouri and Colorado had similar wage levels -- $28,890 and $28,530 -- while Kansas was reported at $24,840 and Utah at just $21,730.