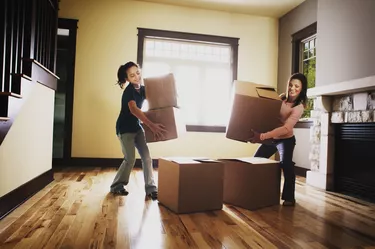 Sometimes, a family has to relocate from their rental home. The landlord could decide to convert the apartment building into retail stores, the city could deem the building unsafe or the family could face an eviction due to nonpayment. For a low-income family, even a small interstate move can seem financially impossible. Fortunately, federal, state and local agencies offer grants to help families relocate.
Grants
The U.S. Department of Housing and Urban Development offers grants to help low-income families relocate. HUD offers the grant to U.S. citizens who meet qualifications. A few state agencies also offer grants to cover the cost of relocation. For example, Washington state provides financial assistance to families who have to relocate if their rental is at risk for being demolished, converted or condemned. Families may also qualify for grants through their city or county. For example, Miami residents facing an eviction can receive grant assistance through the Housing Assistance Network of Dade in Florida.
Benefits
Benefits given to families vary by the type of grant. Families can receive assistance covering moving costs, including transportation. Some grants cover the cost of moving into a new rental, including paying security deposits for rent and utilities. Grants may help cover the cost of rent on a temporary basis. For example, the City of Miami Office of Communications reports that families can receive rental and utility assistance for up to six months through the Housing Assistance Network of Dade program. Families may also get financial help covering the cost of a hotel.
Eligibility Requirements
To qualify for any relocation assistance, a family's income must fall into the low-income range. The income range varies by location. Each grant program also has specific requirements. For example, to qualify for a grant through HUD, the family must live in a rental home set for demolition, converted to another type of building or in violation of building or safety codes. To qualify for the Housing Assistance Network of Dade program, families must have received an eviction notice from the landlord.
Where to Apply
Applicants can find information on applying for specific programs in their area by visiting a Housing Authority office, a HUD satellite office or an assistance programs office such as the Department of Social Services. The head of household will need to complete an application. Depending on the grant, the applicant may need to provide proof of income, proof of residency or documentation showing his need to relocate.