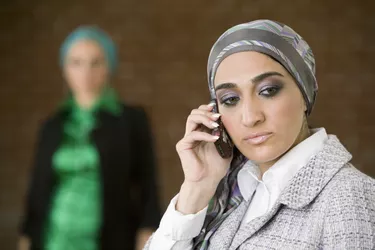 Government grants are usually awarded to state and local agencies and nonprofit organizations. Although the grants may be designed to help people in financial need, the agencies and organizations administer the programs and set the eligibility requirements. If you're experiencing an emergency and need money, there are several national programs that can help.
Temporary Assistance for Needy Families
States receive federal grants to administer the Temporary Assistance for Needy Families program. The goal of the program is to help economically needy families become self-sufficient. In addition to providing monthly cash assistance, the TANF program provides resources to promote employment, such as resume writing workshops and job search tips. Since each state runs its own program, the eligibility guidelines vary. Generally, you must be a low-income household to qualify. If approved, you'll receive monthly cash payments while getting back on your feet. For more information, you can contact your state department of health and human resources.
National Charities
Although most charities don't award cash directly to the public, they might pay a utility bill or your delinquent rent. The Salvation Army, United Way and Catholic Charities have locations throughout the country that offer assistance to the public. In addition to providing emergency assistance, the charities can provide referrals to other organizations and charities in the area. The United Way's 2-1-1 Information line can help you locate places offering food, clothing, furniture, employment resources or housing.
Private Foundations
Depending on your line of work and your emergency, you may qualify for grants from a private foundation. For example, the Adolph & Esther Gottlieb Foundation offers a maximum grant of up to $15,000 for artists who experience a catastrophic emergency, such as fire, flood or medical need. The Screen Actors Guild Foundation Emergency Assistance program offers financial assistance to eligible SAG performers to cover basic expenses, including rent, utilities or car insurance.
Low Income Home Energy Assistance
The federally funded Low Income Home Energy Assistance Program provides financial help with heating and cooling costs. You don't have to be behind on your utilities to qualify, but the program also assists with reconnecting service. The income limits are set by the government. In 2014, the maximum income for a family of four was $35,775 a year. To apply, contact your state's LIHEAP office. If you're approved, you'll receive a letter letting you know what percentage of your utility bill you must pay. The LIHEAP pays the rest, sending the paypment directly to the utility provider on your behalf. Depending on the state, the assistance may continue through the winter and summer months or may be awarded only on a one-time basis.