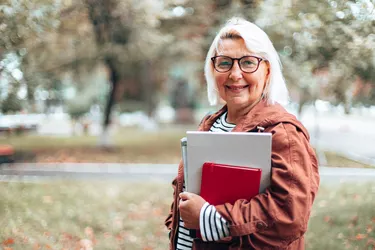 Grants help to fund all types of activities. You can use grants, both public and private, to go back to school, change careers, support your daily expenses or recover financially from a death in the family or a natural disaster. Additionally, being a woman over 60 may help you stand out when competing for educational or career-related grants and scholarships because there may be fewer people in your age group applying for them.
If you're low-income and planning to go back to school, the government is eager to support you. There are many free grants for women and federal grants for women you may be eligible for. Students of all ages may qualify for the Pell Grant, which awards up to ​$6,895​ for the 2022-2023 school year to each qualifying student for tuition, books and fees.
If you are Pell Grant-eligible and have an extremely low income, you may also obtain the Federal Supplemental Educational Opportunity Grant (FSEOG). This adds up to ​$4,000​ to your Pell Grant each year, depending on your level of financial need. Apply for federal grants and low-interest loans at the FAFSA website.
Private Educational Grants for Women
The Jeanette Rankin Women's Foundation grants college funds to women over 35 years old who are low-income and pursuing their first college degree. The Talbot's Scholarship is a similar program that awards up to ​$30,000​ to each qualifying female student. Some schools offer unique grants and study programs to women beyond traditional college age.
For example, the Davis Degree Program at Wellesley College admits and provides financial aid to women over 24 years old who have put college on hold to pursue other goals. Other organizations, like the Business and Women's Professional Foundation and the Association of University Women grant money to older women who are seeking higher educational degrees or training for a complete career change.
You may be eligible for Social Security benefits even if you've never worked or paid into the system, as long as you have a spouse, ex-spouse or deceased spouse who was eligible for benefits. To qualify for spouse's benefits, you must be at least 60 years old.
If you are applying on an ex-spouse's record, you must have been married to your husband for at least 10 years. Apply for benefits online at the SSA website, or call 800-772-1213 to apply by phone or set up an in-person appointment.
Emergency Grants for Women
Although the government won't provide you money simply for being low income, it will grant money to individuals in dire situations. If you are unable to pay your heating or cooling bills, you may obtain money to pay for energy through the Low-Income Home Energy Assistance (LIHEAP) program in your state. If you live in an area that the president declared to be a natural disaster zone, there is government grant money waiting for you.
The Individuals and Households Program (IHP) pays for repairs of underinsured homes when a natural disaster makes them uninhabitable. Also, if a family member was injured or killed during one of these disasters, you may obtain a grant to pay for medical and funeral costs through the IHP "Other Needs Assistance" program. Apply for either of these through FEMA by calling 800-621-FEMA or going to the FEMA website.